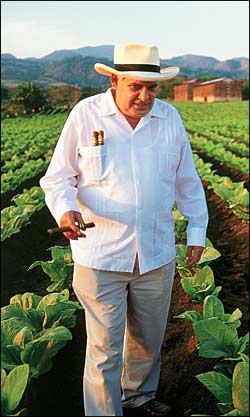 Patriarch Alberto Turrent got a humble start in the family business, driving tobacco trucks.
Te-Amo's Alberto and Alejandro Turrent
The father-son team that runs Mexico's largest cigar-tobacco operation and makes the famous Te-Amo brand discusses the family's 110-year history of growing in that country.
(continued from page 2)
Q: Now did you drive a truck at first too?
Alberto Turrent: No. [Laughs.] He went right into the factory.
Alejandro Turrent: I used to do a little bit of everything. When I was in university, I went to Monterrey [in northeastern Mexico]. There was no market for cigars in Monterrey, really. So I started to ask for some cigar boxes from the factory, and I would start to visit some retailers, and I started selling cigars. The cigars started to move. When I would need money, I would go and ask [the stores] for the money in advance.
Alberto Turrent: He wasn't supposed to collect the money! [Laughs.] When we went to collect on the bills, these owners would say, "We paid in advance!" [Laughs.]
Alejandro Turrent is president of the family-owned Nueva Matacapan de Tabacos S.A. de C.V. Q: How old were you?
Alejandro Turrent: Seventeen. I was working part time.
Q: So you were costing the company a bit of money! [Laughs.] Nueva Matacapan de Tabacos is a very large business, a very expansive business, because you have a very large tobacco growing operation combined with a considerably large cigar factory.
Alberto Turrent: We're an integrated company. Although now, we're buying some tobacco from Honduras, the Dominican Republic, Nicaragua . . . For much of the time, Mexico was closed [to importing tobacco].
Q: That's right—you once used only Mexican tobacco in your cigars. Was importing other tobacco illegal?
Alberto Turrent: Not illegal—you couldn't get permission.
Q: Was it NAFTA that changed the laws?
Alberto Turrent: In some ways, NAFTA helped make it open. But it's still not easy.
Q: Is it expensive?
Alberto Turrent: No, but it takes a long time. It's not easy.
Alejandro Turrent: There were some barriers—the tax, the import license—but at the end there was something related to the agricultural department. Alberto Turrent: You must explain what type of fertilizers are used, what type of insecticide; you need to give all that information.
Q: So the government makes you jump through a lot of hoops to use foreign-grown tobaccos.
Alberto Turrent: Sometimes it takes six months.
Q: I know you're the biggest cigar producer in Mexico, but besides you, who else makes cigars in that country?
Alberto Turrent: There are two [major] companies [producing cigars for export]. After that, there are a lot of small companies, chinchalles [tiny cigar factories], making cigars for the domestic market.
Q: How has your business changed in recent years?
Alberto Turrent: The customers. They smoke different cigars. In the old days, guys would say, "Don't change nothing—make the same thing all the time." And a customer would smoke, say, Te-Amo Meditation all the time. Now you need to have new products. Now if you go to the cigar shop, you see one person buying different brands and different sizes. They like new cigars.
Q: Speaking of new cigars, tell me about what we're smoking now.
Alejandro Turrent: It's A. Turrent 6 Generations. A Mexican puro. We started with Criollo wrapper, but we decided after being on the road and smoking different kinds of cigars, we came back and we changed the whole thing and used Corojo wrapper. We went back and used tobacco from '98 and '99.
You must be logged in to post a comment.
Log In If You're Already Registered At Cigar Aficionado Online