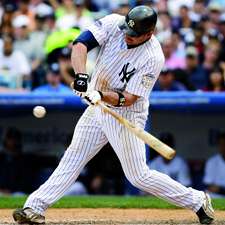 Rich Kane/Icon SMI/Corbis
The Giambi Tales
His seven-year Yankees tenure has been marked by scandal, physical afflications and unfulfilled expectations. Now Jason Giambi, the wild-eyed but eminently likable renegade, hopes for one last hurrah in the Bronx.
(continued from page 8)
And that was that. That is, before June rolled around and, out of nowhere, a miracle happened.
In June, when the baseball world deemed Giambi just a heartbeat away from dead, he suddenly hit a pair of game-winning homers, as well as a game-winning two-run single; then, in July, he out-and-out blasted off the radar screen, batting .355 with 14 homers, the most by a Yankee in a single month since Mantle in July 1961.
He finished the year at .271, with 32 homers and 87 runs batted in, and was voted the AL Comeback Player of the Year.
"I always felt I had the strength to fight through something like that," he told me in spring training of 2006, at Tampa's Legends Field, "but until you're tested, you never know for sure. The thing is, I kept working. As bad as I ever got, I never said to myself, 'My God, I'm done. My career is over.' "You don't become a superstar in this game without working hard, or being special. That's why it hurt so much when people said I only reached that level because I did this or that. I wasn't going to let people diminish everything I've done all these years.
"I don't run around and tell everybody my problems. When things aren't going right, I don't walk around sad or go into a shell and sulk. Psychologists might say it's a bad thing, that I'm not good at identifying my problems, or opening up and sharing my pain. That I'm probably in denial at times. Maybe they're right. Maybe it's one of my downfalls. But that's how I've always pushed myself through tough times. Even as a kid. No matter if I did something bad, or anything bad happened to me, or anything bad was said about me, I'd keep smiling and telling myself, 'You're good, Jason, you're good. Don't worry.'
"I wasn't supposed to go further than Little League. Then I wasn't supposed to go further than the Pony League. Then I had to try out for my college baseball scholarship. I've always believed what others couldn't believe I could do." Like what happened this June.
After that nightmarish two-month start that compelled everybody in Yankeeland to look forward to a merciful end to the Jason Giambi era, he did what he's done so many times before: tease you into believing there's yet still greatness in him. In the first week of June, he pinch-hit a game-winning homer in the bottom of the ninth, then, in a game two weeks later, he belted out two more, lifting his home run total for the season to a team-high 17 and raising his batting average to .268.
Defying the early odds, he was, indeed, on the way to achieving his last wish in this likely last season in pinstripes. "I know I have a lot left in the tank," he says. "I know I can play until I'm 40."
He came to the Yankees as one of the best in the game, and if he exits the Bronx after this season, he will do so only hanging on to what's left after the scandal of all scandals and all the injuries, trying elsewhere to regain his good name and get back that great respect he once commanded through sheer terror and prove that his stardom didn't just come from some pill or balm or syringe. "I've had problems and I've come back from them," he says. "I hope that's what people remember." He pauses, sighs. "I guess if you could go back and change everything to make it perfect, life wouldn't be as much fun."
Then, another pause, only longer; another sigh, only louder.
You must be logged in to post a comment.
Log In If You're Already Registered At Cigar Aficionado Online