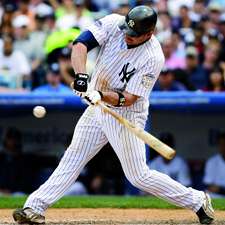 Rich Kane/Icon SMI/Corbis
The Giambi Tales
His seven-year Yankees tenure has been marked by scandal, physical afflications and unfulfilled expectations. Now Jason Giambi, the wild-eyed but eminently likable renegade, hopes for one last hurrah in the Bronx.
(continued from page 5)
What does that say about him? "That I need help," he says with a chuckle.
This is the thing about Giambi: he's impossible not to like. In his company, with that big, flushed, open face and those eyes that are so charged he looks perpetually stoned, everything is always surfer-dude "cool" and "awesome," everyone is "buddy," everything has a wink and a grin and a giggle attached to it, everything concludes with a warm tug across the shoulder and a sturdy, feel-good high-five. "If you don't like Jason Giambi," someone once said, "you don't like M&Ms."
Says teammate Johnny Damon, who also played with Giambi in Oakland: "Jason is so fun-loving and down-to-earth, he makes you feel comfortable right away. And as a friend, he'll do anything for you, won't let you pay for a thing and will give you the shirt off his back."
This profound likability is a quality that has helped shield Giambi from a lot of bad vibes these last handful of seasons, especially with his Yankees teammates, through all the slumps and piled-up days on the disabled list, through all the steroids rumors and never-ending controversy. In that unforgiving Yankees clubhouse, he has, amazingly, come through it all without his rep being pummeled to a pulp, without being loathed or resented or the subject of mean-spirited whispers, with, of all people, the infinitely straitlaced Derek Jeter always guarding his back.
"He never whined or felt sorry for himself," Jeter says. "He just stayed upbeat and kept working. You got to respect that."
"Jason is so engaging that just five minutes into talking to him, you know how great a guy he is," says his second and current wife, Kristian, a fledgling fashion designer on the verge of starting her own women's sleepwear business and who describes herself as Jason's opposite. "He has something that a lot of people want, a charisma. He has this little sparkle in his eyes that makes you really curious. I think that's what pulls people in. He has something there that everybody wishes they could have and be a part of."
Giambi and Kristian met in 2000, at a Bay Area PF Chang's on a night that Kristian's family was celebrating the birthday of her grandmother. Jason eventually made his way over to Kristian's table, wished the grandmother a happy birthday, had his picture taken with the group, and by the time it was over, he had Kristian's phone number. Two years later, on February 2, just before Giambi's first Yankees spring training, they married in San Francisco.
"There's a lot more to Jason than his party-animal persona," she says. "I mean, he definitely likes to have a good time and he's intrigued by the dark lifestyle—I think he'd love to have been a rock star. You should've seen him playing his Guitar Hero with his tongue hanging out—but as he's gotten older, he learned that there's only so much that your body can take and he doesn't partake as much as he used to. Of course, being a Yankee, he's had to curb his behavior. He still likes to push the envelope, live on the edge, but he picks his spots better now."
She pauses, and then adds a tad solemnly: "Jason would never do anything malicious to anybody. But . . . he might've done things in the past that would've been harmful to himself."
What the fuck is wrong with me? This was in the spring of 2004, amid growing rumors that Giambi had testified in BALCO. He began feeling sick, with symptoms of extreme weakness, lack of appetite, occasional nausea and a bad case of light-headedness. At first, he simply figured he had some nasty bug—except it only got worse.
You must be logged in to post a comment.
Log In If You're Already Registered At Cigar Aficionado Online