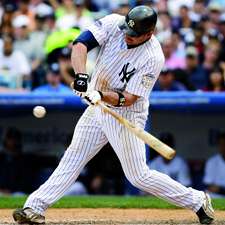 Rich Kane/Icon SMI/Corbis
The Giambi Tales
His seven-year Yankees tenure has been marked by scandal, physical afflications and unfulfilled expectations. Now Jason Giambi, the wild-eyed but eminently likable renegade, hopes for one last hurrah in the Bronx.
(continued from page 4)
What hasn't he done in life? "I've tried everything. That's my problem. If it sounds fun, I want to try it."
Cigars? "Hey, during the mid-1990s, Mark McGwire and I hit every top cigar bar on the road for two seasons straight."
Cigar of choice? "Romeo & Julietas."
What's his worst trait? "Zero patience."
What do therapists tell him? "'You're fucked up.' I say, 'I know that.'"
And? "So I don't try to fix it anymore. I've embraced it." He giggles. "Why? You're waiting for me to have a nervous breakdown?"
Giambi says that once he retires—and if his wife lets him, which is asking a lot—he'd love to add one more tattoo, on his back: an iron cross with blue flames shooting out of it. He's not sure what it means and, frankly, doesn't really care; he saw it on a T-shirt once and, well, it just looks cool, which is always the operative word for him.
"I feel sorry for my parents," he says. "They're such conservative people. They don't drink or smoke. Every time they see me with my tattoos, they shake their heads and sigh, 'Where did we go wrong?'"
His mother, Jeanne, who's essentially Carol Brady, wishes there were some kind of industrial-strength eraser to wipe them both off. His father, a retired bank president who was once a repo man, said after the first tattoo: "I can't leave you alone for a minute, can I?" But after the second one, the only person that Jason has ever feared narrowed his eyes and said firmly: "That's enough, Jason."
His parents didn't go wrong. He simply has a problem for which even therapy couldn't make a dent. "I'm one of those guys," he says, "who colors outside the lines and doesn't like to be told to color inside."
You must be logged in to post a comment.
Log In If You're Already Registered At Cigar Aficionado Online