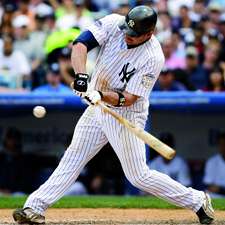 Rich Kane/Icon SMI/Corbis
The Giambi Tales
His seven-year Yankees tenure has been marked by scandal, physical afflications and unfulfilled expectations. Now Jason Giambi, the wild-eyed but eminently likable renegade, hopes for one last hurrah in the Bronx.
(continued from page 3)
He doesn't finish that sentence. He doesn't have to.
"Don't paint me as St. Joseph," he once said, and for good reason.
Giambi is an unabashed, walking gob of oozing testosterone, once donning a T-shirt that read the in-your-face hedonist philosophy: "Party like a rock star, hammer like a porn star, rake like an all-star." He loves telling and hearing salacious jokes, loves scarfing down greasy pizzas and greasier burgers, loves pumping iron at the gym for hours on end, loves club-hopping with the boys in the off-season and partying the night away ("I'm not as bad as I used to be," he claims. "I've cleaned it up a lot.").
Who's his favorite actress?
"Jenna Jameson," he says without flinching.
What five movies he'd want if stranded on a deserted island? "The Outlaw Josey Wales, Gladiator, and three of Jenna's."
What would he have been if not for a baseball player? "A bouncer at a strip club."
What turns him on? "Sex and going fast in anything."
What the fastest he's ever gone? "170 in my Ferrari."
Doesn't that scare him? "I don't think I ever take into account that something bad might happen. Maybe that's why I've gotten into trouble sometimes. Because I've never played the other side of the coin."
You must be logged in to post a comment.
Log In If You're Already Registered At Cigar Aficionado Online