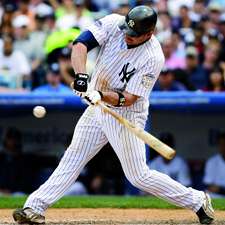 Rich Kane/Icon SMI/Corbis
The Giambi Tales
His seven-year Yankees tenure has been marked by scandal, physical afflications and unfulfilled expectations. Now Jason Giambi, the wild-eyed but eminently likable renegade, hopes for one last hurrah in the Bronx.
(continued from page 9)
"The one thing I feel good about," he says, "is that when I've played, I've given the Yankees everything I've got. I stayed on the field beat up, sick. And I sacrificed my numbers doing it. I kept my promise.
"And I can honestly look you straight in the face and tell you I've never played even one day for the money. I just love playing the game, love being out there. I've always found it to be my three hours of therapy, where I didn't have a care in the world.
"Being a ballplayer is all I ever wanted to be as a kid. I didn't want to be a cop. I didn't want to be a fireman. I wanted to be a ballplayer. And I enjoy every minute of it."
Freelance writer Michael P. Geffner lives in New York City. His work has appeared in Details, USA Today, FHM, The Village Voice, and been acknowledged several times by the annual anthology Best American Sports Writing.
You must be logged in to post a comment.
Log In If You're Already Registered At Cigar Aficionado Online