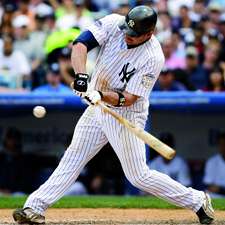 Rich Kane/Icon SMI/Corbis
The Giambi Tales
His seven-year Yankees tenure has been marked by scandal, physical afflications and unfulfilled expectations. Now Jason Giambi, the wild-eyed but eminently likable renegade, hopes for one last hurrah in the Bronx.
Suddenly, through a side entrance, as if sneaking into the room, Jason Giambi sweeps into the New York Yankees clubhouse and fast-steps it to his back-wall locker on what is the start of another bizarre day for him in pinstripes. • His hair is wet and slicked back and he's wearing his normal off-duty garb: faded jeans and a black T-shirt.
At 37 and entering the final guaranteed year of his Yankees contract, Giambi arrived in spring training in possibly the best shape of his life, looking not only to impress a new manager, Joe Girardi, but desperately seeking yet another second act, before it was too late, before the brass upstairs told him his time in the Bronx was over for good, before he had a chance to grab one last piece of glory, a good-bye wave of grand redemption.
But as much as he wanted to put up a huge year, his season was a struggle from the start. On Tax Day, he hitting only .094; just .150 on May 4; it wasn't until May 20 that he even managed to lift his batting average over .200 for the first time. Finally, in June, he showed some glimpses of what might be, with a game-winning home run and two more homers 12 days later, while surging to the club's home run lead for the season with 17.
But he's been so scarily bad in the 2008 season that a story surfaced saying, of all things, he was resorting to the wackiest of secret weapons to snap out of his funk: a gold lamé, tiger-stripe thong worn under his uniform. Making the front page of the local papers, it stirred up not only considerable buzz but uncontrollable snickers.
"Where did that story come from?" Giambi eventually says to me privately, opening up his arms—and mouth—wide. "That thing's from years ago. What the fuck?"
Of course, only Giambi, the odd fit on this terribly vanilla team, this notorious, tattooed hell-raiser shoved into the square-pegged world of these straitlaced Yankees, could inspire such an outlandish tale, make something so unbelievable seem incredibly believable. It was simply another piece of strangeness thrown into a Yankees legacy that has offered scant few truly memorable moments and too many years of unfulfilled promise. It is a tale of a painfully endless series of tragedies and triumphs, failures and comebacks, awful slumps and wonderful power surges, signs of the end and teases of a new beginning.
"I know what it's like to be on top of the world and I know what it's like to be dragged in the gutter," Giambi acknowledges from his condo apartment on Manhattan's Upper East Side, speaking, typically, in these rapid bursts of words that make them all but collide into each other. "I've been booed and cheered, ripped and praised. But I'm not the type to regret things. I never backtrack. I deal with things and move on. And the journey I've had here has been incredible. Believe it or not, I wouldn't change a thing. I've enjoyed the ride, the whole circus. I've lived a lot of life here—enough for five people."
It was in December of 2001 that Giambi—already an American League Most Valuable Player and MVP runner-up with the Oakland A's, a two-time All-Star, and a brutish-looking slugger who did nothing less than terrorize the opposition—signed one of Major League Baseball's landmark free-agent deals, pocketing 120 of George Steinbrenner's millions to play seven guaranteed seasons for the New York Yankees.
While egregiously over the top, the signing was a natural for Boss Steinbrenner, who worshipped at the altar of the home run. He looked at Giambi and saw the dazzle of star power, envisioned Mantle and Reggie rolled into one, and, most of all, imagined a bulging-bigger-than-life savior who'd feed his insatiable ego the frenzy of more world championships, if not a slew of them. For Giambi, it made him very rich, even more famous, and very relevant very quickly.
And now, with the guaranteed portion of his contract finally expiring at the end of the season, a mere $5 million kiss-off option clause is all that separates the Yankees from not only spitting up a $22 million paycheck in 2009 but, at last, closing the chapter to this uneasy, oft-troubled, unsatisfying relationship forever.
You must be logged in to post a comment.
Log In If You're Already Registered At Cigar Aficionado Online