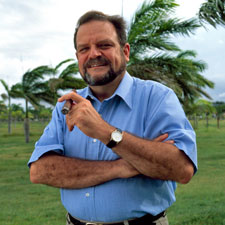 An Interview with Alejandro Martinez Cuenca
Cigar Aficionado sits down with the owner of Nicaragua's oldest cigar brand, Joya de Nicaragua.
(continued from page 6)
A: The Daniel that I met in '77 and the Daniel in 2007 is a completely different Daniel. In '77 he was nothing; now he is a very eloquent, very intelligent, very able politician. Nobody can doubt that. He was able to split the vote of the right. He was able to maintain the party of which I am a member, and to act politically in searching for solutions to avoid having the party split. We worked together very closely in the 1980s, and we had our disagreements. When he lost in 1990, everybody thought Ortega was over. And nevertheless, he maintained the party. And even though he was in the opposition with no power, he was able to maintain that level of political acuity. The Ortega I am referring to, the Ortega of the 1990s, he was a negotiating Ortega. In the 1970s, he was a guerrilla. So he was always negotiating, and that made him open to the opportunity to continue building. Even though he lost three times, he continued to be the candidate of the party.
Obviously, he did things with which I completely disagree. He went against the rules of the party when he eliminated the possibility of a primary process in the last election, and that's why I opposed Ortega in that regard.
Q: So it was his doing that changed the election laws?
A: Yes. Negotiating with [Arnoldo] Alemán, who was then president, they changed the constitution, and they decided to move the level that [a candidate] needed to win from 45 to 35 percent, as long as the one that was behind you was five points behind.
Q: That's quite a difference. Was that when you decided to oppose him?
A: In 2001, I ran in the primary against Ortega, I respected the results when they were not favoring my candidacy, and I even worked for his candidacy. In '06 I told him, if you don't respect the bylaws of the party, I cannot support your candidacy. The party establishes that in order to establish the candidate of a political party, you go through a primary process. You don't do it by hand, which is what happened.
Q: So there was no vote to make him the candidate of the Sandinista party?
A: He was selected by his friends, who decided to violate the bylaws of the party. That's my criticism of Ortega. Once he won, I cannot oppose the fact that everybody else played by the rules, and the rules gave him the majority of the vote, regardless of how small or how big.
Q: Did you leave the Sandinista party?
A: No. I will continue fighting.
You must be logged in to post a comment.
Log In If You're Already Registered At Cigar Aficionado Online