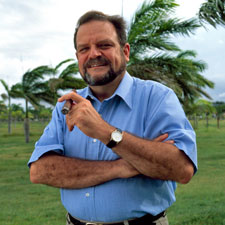 An Interview with Alejandro Martinez Cuenca
Cigar Aficionado sits down with the owner of Nicaragua's oldest cigar brand, Joya de Nicaragua.
(continued from page 4)
The point is, here we are, and the new president is being sworn in, and everybody is saying, I'm going to wait and see. I don't see people moving out of the country as they did in the 1970s and 1980s for one basic reason: I think the experience of Nicaraguans outside Nicaragua was so harsh and so difficult—even though some of them were successful—that people are convinced that if they leave this place, they are going to lose their niche and others will take it.
Q: That said, though, do you think some people are thinking of contingency plans? Many cigarmakers making cigars here also have cigar factories across the border in Honduras.
A: I think anyone who is serious in business needs to have a contingency plan. I think it would be terribly irresponsible, not only in terms of yourself, but in terms of your customers, not to have a backup plan in case things go worse than you think. At the end of the day, we are 14 individuals making decisions on what to do in regards to cigars in this country. And I have talked to all of them. In the beginning they were concerned. And I have told them, it's never going to happen.
Q: You don't think nationalization will happen in Nicaragua again?
A: No. And let me tell you, I never thought Ortega would win. That's why I proposed an alternative candidacy.
Q: You yourself.
A: Yes. Once he won, it's important we all have some backup alternatives, but it's important to take the opportunities the country has today, which is demonstrating tobacco is improving tremendously, not only in terms of volume of tobacco being exported, volume of cigars being exported, but also people are more concerned today with quality than they were before. So leaving this niche would be suicidal for anyone. You have a lot of producers from the Dominican Republic buying tobacco from Nicaragua, you have many Hondurans buying tobacco from Nicaragua. Why leave that to someone else?
Q: Should investors be worried about the close relationship that's developing between Ortega and Venezuelan president Hugo Chavez?
A: The talk of Ortega on his partnership with Venezuela should be viewed more of rhetorical position than anything else, even if the many promises Chavez made for cooperating with Nicaragua were to become real. Do not forget theÊpolitical leverage Ortega has is very limited, and therefore, political realism should prevail over and above the concerns that have now flourished.
Q: You were instrumental in reconvening the group of Nicaraguan cigarmakers and tobacco growers, which convened in December. Can you talk about that?
You must be logged in to post a comment.
Log In If You're Already Registered At Cigar Aficionado Online