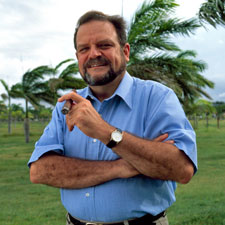 An Interview with Alejandro Martinez Cuenca
Cigar Aficionado sits down with the owner of Nicaragua's oldest cigar brand, Joya de Nicaragua.
(continued from page 3)
Q: It hasn't been the hit that Antaño is?
A: No, no, no. If I were to choose between Celebración and Antaño, for a soft, nice smoke but still with strength, I would take Celebración.
Q: When people reach for a Nicaraguan cigar like yours, what do they expect?
A: I want them to recognize that Nicaraguan tobacco is a tobacco that has won its place in the market not only because it resembles Cuban tobacco. Nicaraguan tobacco has much of the greatness of Cuban tobacco, but it's more than that. It's something genuine. When you come to Nicaragua and smoke a cigar, you will find the Nicaraguan tobacco has some likeness to the Cubans, but there is more to it. There is the Nicaraguan identity.
Q: What does the future hold for Nicaragua?
A: I think there is no possibility that we're going to go back to the past. Everything that is in front of us—regardless of who is sitting in the presidency of Nicaragua—should be forward. Nicaraguan tobacco, regardless of the political situation in this country, will continue to be the best tobacco in the market, the best quality. I am still confident that Nicaragua will continue to be a good place to make cigars and grow tobacco as we have been in the last part of the 1990s and the 2000s.
Q: How important is the cigar and tobacco business to Nicaragua?
A: There are 23 formal businesses dealing with tobacco and cigars in this country. There are 14 owners. In total, we are benefiting around 80,000 individuals directly and indirectly in Nicaragua. In the northern part of Nicaragua, including Jalapa, Ocotal, Condega, Estel', you see booming activity. The major cause of that is tobacco: production of leaves, companies that manufacture boxes, companies making the tools for cigars, cellophane—simple companies. At the end of the day, you're talking about 80,000 Nicaraguans depending on the business. Sugar doesn't contribute as much. The only industry that can compete is coffee. Aside from coffee, tobacco is the highest labor-intensive activity that is carried out in this country.
Q: With Daniel Ortega being made president again, many people are concerned about the future, given the man's past.
A: I think people are taking the new situation in terms of Ortega relatively quietly, not too much concern. People understand very well that the vote that Ortega has taken is very fragile. There's the minimum required number of votes. People get concerned because they don't know what route he is going to take. What I have said is there aren't too many routes—continue, that's the only route, because anything else would be putting the country in a very difficult situation. The country cannot afford it.
You must be logged in to post a comment.
Log In If You're Already Registered At Cigar Aficionado Online