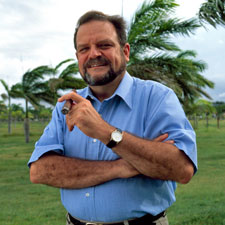 An Interview with Alejandro Martinez Cuenca
Cigar Aficionado sits down with the owner of Nicaragua's oldest cigar brand, Joya de Nicaragua.
(continued from page 1)
A: Eighty bosses making a cigar. In 1992, I knew Joya de Nicaragua was being manufactured by my dear friend Nestor Plasencia in Honduras.
Q: So Joya was made in Honduras during the embargo?
A: Yes. And I knew there was a problem with the trademark—I knew Somoza had sold the trademark. Then it was decided that it was going to be privatized. And one day, Leonel Raudez, who is now my general manager, walked into my office and said, "Doctor, help us. They are going to close that company. We have the know-how." I didn't want to get involved with anything that had been nationalized. But he opened my interest. I called the minster of the presidency and asked if it was true he was going to sell the cigar company. He said, yes, it was going to go to a public bidding. It was all in shambles.
Q: Was it operational?
A: The building was there, there were two or three people making cigars. I had someone do an evaluation of the company, and I bought the company for $600,000 in 1994. And I said, "Let's look for the old workers who worked here." I rehired most of the best-known rollers, tobacco producers, and started working with them. But then I realized what I had. In 1995, fortunately, the [cigar] boom started, and that helped us put together a team of well-known specialists who started producing tobacco. The boom helped us. It created the conditions for us to be alive today, because when the boom started we had only made $40,000. I said to my workers, "We are going to rebuild this company. I want your initiatives, I want your discipline." It was a difficult task, trying to consolidate our sizes. I had been familiar with it only because I smoked it. When I was minister of trade, there used to be two guys who would come to my office, Silvio and Alfredo Perez [of tobacco grower ASP Enterprises Inc.]. They came and told me, "We can't get out of Nicaragua—they don't give us the visa." I put them in contact with Immigration so they could continue doing business. And every Wednesday, they would visit me and keep me informed. In 1995, I called Alfredo and said, "I have a problem. Help me." He said, "What do you need?" I said, "I need tobacco." He said, "Look, the only place we can bring it is from Connecticut or Ecuador." Connecticut was too expensive, so I said Ecuador.
Q: That was Connecticut seed from Ecuador?
A: Yes, that's how I started remaking the Joya, with Connecticut seed.
Q: What was the wrapper in the old days? Nicaraguan?
A: Nicaraguan Habano. There was a tremendous shortage.
Q: When was this?
You must be logged in to post a comment.
Log In If You're Already Registered At Cigar Aficionado Online