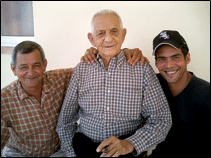 Alejandro Robaina with his grandson, Hiroshi, right, and his son Carlos.
Cuba's Cigar Legend, Alejandro Robaina
The dean of Cuban tobacco men and his grandson, Hiroshi, discuss the state of cigars in their homeland in a wide-ranging interview.
(continued from page 7)
Hiroshi: We haven't had any problems with supplies this year.
Robaina: There has even been an improvement with the fertilizers.
CA: How about the products used against blue mold?
Robaina: We have also had access to very good products to prevent the appearance of the blue mold.
CA: Some people outside Cuba say that there are not that many people left in Cuba that truly know about tobacco and how to grow it. They argue that Cuba is finished as a premium tobacco producer. Would you agree?
Robaina: I believe this is not true. We have lately seen some new producers. Many of them were producers in the old days; they left the fields for some reason or other but have now returned to the countryside. They are terrific producers. There is also the issue of the quality of the soil [in which the tobacco] is planted. I have to mention that here in Cuba there is a tendency to plant in first-class quality lands. There is little or no planting in lands that are second-grade quality and so on.
CA: But what would happen if Cuba needed to grow more tobacco for cigars if something happened like the U.S. market opened?
Robaina: There is three times more first-class quality land available than is being used today. It's amazing the amount of this quality land that is not being planted.
CA: Is it just in this area and San Juan y Martínez?
Robaina: In both areas. Although, I think San Luís has much more of this unused land than San Juan has.
You must be logged in to post a comment.
Log In If You're Already Registered At Cigar Aficionado Online