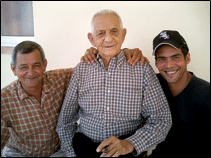 Alejandro Robaina with his grandson, Hiroshi, right, and his son Carlos.
Cuba's Cigar Legend, Alejandro Robaina
The dean of Cuban tobacco men and his grandson, Hiroshi, discuss the state of cigars in their homeland in a wide-ranging interview.
(continued from page 5)
Hiroshi: The truth is that it has been easier for me than for my grandfather. He acquired his experience from his father and grandfather and from his own work throughout his life. For me, I feel it has been a lot easier because he has passed on to me the essence of all those years of experience. I have not had to experience the hardship he went through in his life.
CA: Do you know of any other young people in Vuelta Abajo that have had the same experience?
Hiroshi: I would say that family traditions have been lost throughout the years, not just in Cuba but all around the world. We have visited Italy and have seen that the young people leave the countryside to go to the cities to go to school, and when they finish studying they do not want to return to the countryside. There is little or no continuation of tradition. I believe there are still a few families that are keeping the traditions alive. But only a few are left.
CA: Yes. But it is so important that you keep the family tradition going.
Hiroshi: Yes, I think it is a fundamental issue.
Robaina: Tell James about your involvement with a group that specializes in agricultural studies.
Hiroshi: Yes, here in the farm it's just us two, me and my dad. Some people question the fact that my name is mentioned in the region when it should be my dad who should hold that place. These people think that we have jumped a generation, but the thing is, we're here do our work together so that everything is done correctly. It's not just tobacco.
CA: Doesn't your uncle Frank work here, too?
Hiroshi: Yes, and my cousin, too. He handles his own tobacco crop. We have other cousins and uncles who also grow tobacco. We have a lot of family in the vicinity that grows tobacco.
CA: Aren't there close friends that are considered family, too?
You must be logged in to post a comment.
Log In If You're Already Registered At Cigar Aficionado Online