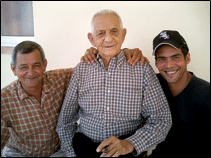 Alejandro Robaina with his grandson, Hiroshi, right, and his son Carlos.
Cuba's Cigar Legend, Alejandro Robaina
The dean of Cuban tobacco men and his grandson, Hiroshi, discuss the state of cigars in their homeland in a wide-ranging interview.
(continued from page 4)
CA: Would you say the focus for cigar tobacco should be in the taste and in the quality?
Robaina: The perfect thing is to combine the taste, quality and growth of the plant. But a bigger plant will have problems with the wrappers and it won't work out. That is my opinion.
CA: What's your opinion on climatically controlled curing barns?
Robaina: It's like the traditional curing process but with special focus on temperature control, making it perfect. The wonder of this is that, for example, the tobacco that was cured this year still has its natural oils. With the system we were using before, we had the disadvantage that the tobacco would lose its natural oils.
CA: Why does the temperature need to be controlled? Is it due to the humidity levels or higher temperature?
Robaina: Both. This curing is done in a way that is very similar to what nature does for a plant…the temperature, the humidity are what they should be.
Hiroshi: The purpose is to guarantee the perfect temperature and humidity and that cannot be achieved in the natural environment. In the natural environment [traditional curing barns], there are changes in temperature and humidity all the time. The controlled curing barns ensure that both the temperature and humidity are perfect. Should these conditions exist in the natural environment, the tobacco could be cured in 22 days. [Editor's note: it usually takes twice that amount of time].
CA: Are there other changes that you and your grandfather have incorporated at the plantation recently?
Hiroshi: Yes, there have been changes, like we now have drip irrigation for part of the plantation, our own seedbeds are done in trays, and [we have] the new shade-growing tents. These are just a few of the new things we are doing. The rest is traditional and done the way my family has done it forever.
CA: Have you have learned a lot from your grandfather?
You must be logged in to post a comment.
Log In If You're Already Registered At Cigar Aficionado Online