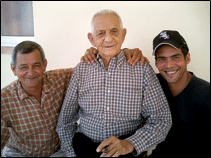 Alejandro Robaina with his grandson, Hiroshi, right, and his son Carlos.
Cuba's Cigar Legend, Alejandro Robaina
The dean of Cuban tobacco men and his grandson, Hiroshi, discuss the state of cigars in their homeland in a wide-ranging interview.
(continued from page 2)
Hiroshi Robaina: You mean Criollo 98 and Corojo 99, grandfather.
Robaina: Yes, that's what I mean, but I am always mixing them up and saying their names the wrong way!
CA: Why don't you plant the old variety, the traditional Corojo?
Robaina: I wish I could get my hands on those seeds!
CA: The flavor was wonderful.
Robaina: Yes, no doubt, and the traditional Criollo was the best filler tobacco around.
Hiroshi: I wish we could use it.
Robaina: Perhaps this year we could try.
Hiroshi: It would be great to plant traditional Corojo in the new tapado (cloth tents for shade-growing wrapper)!
CA: Wasn't there a blue mold problem with Corojo?
You must be logged in to post a comment.
Log In If You're Already Registered At Cigar Aficionado Online