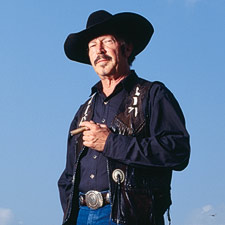 Lone Star Long Shot
Better known for his irreverent country songs and mystery novels, Kinky Friedman sets his sights on the governor's mansion.
(continued from page 3)
Ever the populist, Nelson sees his friend's candidacy as more than just a blow for energy independence. In a telephone interview from somewhere in California on board his bus, the Honeysuckle Rose III, Nelson sounds off on the state of American politics. "Some people say that for Kinky to run as an independent isn't a good idea. I disagree. Look at [Jesse] Ventura in Minnesota. Or [Arnold] Schwarzenegger in California. People are fed up with politics as usual. Put an honest, upright guy in the race, and there's a good chance that the millions of people who've been staying out of politics and not showing up at the polls might get interested again. What have they got to lose?"
The combination of Friedman's larger-than-life personality and his maverick approach has generated a flurry of press, far more than most third-party candidates could ever hope for. In addition to "The O'Reilly Factor," Friedman has been featured in numerous articles statewide and nationally. He's been profiled on CBS's "Sunday Morning" and sat in with Don Imus on MSNBC's "Imus in the Morning."
He'll need all the press he can get. Election laws in Texas are not kind to independents. To get his name listed on next year's ballot, the Friedman campaign will have to collect almost 50,000 signatures from registered voters who do not vote in either the Republican or the Democratic primaries. It's no small task.
"That's nothing," the candidate says. "Go to KinkyFriedman.com. We've already got almost 10,000 volunteers signed up. Getting 50,000 signatures will be a piece of cake. We'll start with the fine folks at your cigar smoker," he adds, mentioning a gathering I host in Austin at the Saveur Texas Hill Country Wine & Food Festival.
Some years we sample single malts. More often than not it's high-end Tequilas, which, given the Texas setting, prove the most popular, especially when the Kinkster shows up and takes the mike. He'll talk about anyone and anything. When listening to him, however, it takes a finely tuned ear to discern the truth from a good one-liner. Like the time a few years back when he told all of us that he was getting into politics. Not as a candidate, of course, but in support of one. He had put himself in charge of a new political action committee, Gay Texans for Phil Gramm. Who knows what sort of conniptions the former senior senator from Texas and his minions had to endure as they distanced themselves from Friedman's antics.
Put the 60-year-old on stage in a smoke-filled room, and he tends to wax lyrically about his heroes, those larger-than-life characters whose cigar consumption borders on prodigious. Among his favorites are Winston Churchill, a leader of men, Friedman is wont to point out, who almost never was seen without a cigar during the Second World War; Mark Twain, who smoked up to 40 cigars a day and uttered one of Friedman's favorite quotes, "If smoking is not allowed in heaven, I shall not go"; and Thomas Edison, who, according to Friedman, lived to be 84 by "blowing smoke at people who ridiculed his inventions."
Friedman claims he took up cigar smoking for health reasons. "Cigar smokers live longer," he says, singling out octogenarians such as Sigmund Freud and Edison and, of course, Churchill, who lived to be 90. Friedman generally smokes eight cigars a day, though he says 12 is more typical when he's writing. He admits to a particular fixation for Montecristo No. 2s. Lately he's been smoking Bolivars. In typical fashion, he explains his atypical rationale. "Simon Bolivar is the only person in history to be exiled from a country named after him," he says.
Not surprisingly, the candidate is adamant about rolling back any and all smoking bans if he's elected governor. It's the sort of approach he plans to use to distance himself from his only announced opponent, Govenor Perry, whom Friedman derides as "a career politician." Oddly enough, the sole experience that Friedman thinks served Perry well was his years at Texas A&M as a collegiate cheerleader.
"Hell, George Bush was a cheerleader," Friedman says. "And Kay Bailey Hutchison was one as well, and she can probably kick both of their asses. But the one thing you've got to remember is this: They're all going to be cheering for me. 'Cause after next year's election, I'm the one who's going to be carrying the ball."
Texas-based Eric O'Keefe has profiled a variety of entertainment and political figures, including Russell Crowe, Tommy Lee Jones, Bill Clinton and George W. Bush.
You must be logged in to post a comment.
Log In If You're Already Registered At Cigar Aficionado Online