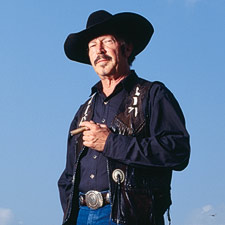 Lone Star Long Shot
Better known for his irreverent country songs and mystery novels, Kinky Friedman sets his sights on the governor's mansion.
(continued from page 1)
"Absolutely," said Friedman.
But no matter how he fares or how much he's outspent, Friedman will leave a distinctive mark on Texas politics because of his already classic campaign slogan: "Kinky Friedman. Why the hell not?" It may not rank up there with "I like Ike" or "A chicken in every pot and a car in every garage," but it's a quantum leap forward compared to Friedman's last electioneering attempt, an ill-fated run two decades ago for justice of the peace in his hometown of Kerrville, Texas. By comparison, that effort seems positively backwoods due in part to a slogan that went something like "Elect Kinky Friedman the first Jewish justice of the peace in Kerrville, and I'll reduce the speed limit to 54.95."
Yet the candidate insists his maiden political venture was not for naught. He's quick to point out that "George W. [Bush] lost his first election [for the House of Representatives, in 1978], and look where he is today."
Given his eclectic background -- singer, songwriter, novelist -- the political arena might well be a perfect fit for Friedman. A graduate of the University of Texas at Austin, he joined the Peace Corps right out of college and was promptly shipped off to Borneo. His assignment? "To show people who'd been farming successfully for more than two thousand years how to improve their agricultural methods," he says.
That two-year stint may have been when he began developing his distaste for politics as usual. Four decades later, it's a full-blown vendetta and the hallmark of his campaign. "When somebody from Washington comes to your state and asks, 'How can I help,' there's only one response: run. As fast as you can. Forget politicians. What Texas needs is to elect a musician. Or a beautician," he says.
One of the positive offshoots of his Borneo years was ample free time. Friedman made good use of this by meticulously planning his next scheme: a country band he would christen Kinky Friedman and the Texas Jewboys. In due order, Friedman returned to Texas, and the Jewboys took shape. Audiences were soon tapping their toes to the likes of "They Ain't Makin' Jews Like Jesus Anymore" and that anthem of male chauvinistic pigs everywhere, "Get Your Biscuits in the Oven and Your Buns in the Bed."
But this bandleader does more than pen lyrics; he's also a talented author. The musical iconoclast soon began churning out mystery novels with catchy names: Greenwich Killing Time, The Love Song of J. Edgar Hoover, A Case of Lone Star, Roadkill, Meanwhile Back at the Ranch and Armadillos & Old Lace. In a candid outburst at a crowded book signing this year, he revealed the secret of his literary prowess:
"With regards to my most recent book, Ten Little New Yorkers, as always I have to give the disclaimer that I didn't really write this book. This was ghostwritten by Mary Higgins Clark. She ghostwrites all my work," he told several hundred book buyers in a well-honed deadpan. Many of those in line sported "Get Kinky 2006" gimme caps. All burst into laughter.
Ten Little New Yorkers was Friedman's last murder mystery, at least for a while; he'll be on the campaign trail from now till November 2006. The popularity of his novels led to countless appearances on talk shows and who knows how many other promotional appearances. In one respect he's achieved the sort of exalted status typically reserved for Pulitzer Prize winners and Nobel laureates. He's become a White House regular. In this regard, Friedman views himself as continuing the esteemed tradition of such Oval Office frequent flyers as Billy Graham and Jesse Jackson.
Although others might crow about having slept in the Lincoln Bedroom, the high point of Friedman's visits to 1600 Pennsylvania Avenue has always been lighting up in the same environs as his cigar-smoking predecessors, men such as Andrew Jackson, Ulysses S. Grant and John F. Kennedy. On one of his more recent visits, an enthusiastic White House staffer saw fit to inform Friedman that Hillary Clinton's brother also belonged to this storied tradition of smokers.
You must be logged in to post a comment.
Log In If You're Already Registered At Cigar Aficionado Online