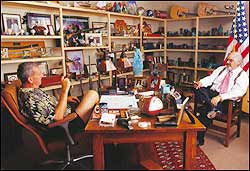 Photo by Gary John Norman
General Tommy Franks
Marvin R. Shanken conducts an exclusive interview with America's top general in the war on terrorism.
(continued from page 8)
CA: When was that?
Gen. Franks: The first night. It's a housing complex. We had good intelligence, but not real time, not right there. I would describe the intel as hopeful. We had reports that indicated that there were leadership targets that were viable. And so we took the decision to strike those targets early on. I guess everyone would be hopeful that maybe you had decapitated the regime and there'll be less loss of life, and so forth. But I'll say this: We never counted on it.
CA: Isn't it surprising that he was able, to this day, to avoid being captured?
Gen. Franks: [Silence.]
CA: I guess I'm saying I would have thought it would have been easier to get him than in the caves of Afghanistan to get Osama.
Gen. Franks: You bet. You bet. And…but what I'm balking about is…you asked me if it was surprising?
CA: I assume you thought you'd get him?
Gen. Franks: Actually, not. Stereotyping is never exactly a good thing to do. But if there's a stereotype that an operational or strategic mind in the military will take what it sees, react to what it sees in a way that makes our action faster, more effective than the enemy's action—if that stereotype exists, it's probably true. And that's the way my mind works. I didn't ever think about, "OK, now if I do this, I'll get this personality." And so I have never and, actually, up to this point, I am not surprised that Saddam Hussein has not been captured or killed verifiably. I'm not surprised. I just take it as it comes. I did not believe that the removal of Saddam Hussein from power was an end state that resulted in the removal of the regime in Iraq. I did not and I do not. I believe that the regime was removed in Iraq by the isolation and, subsequently, by the occupation of Iraq by coalition forces.
CA: Could the regime exist without Saddam Hussein?
Gen. Franks: Yes.
CA: Without leadership?
Gen. Franks: Yes.
CA: Without infrastructure?
Gen. Franks: Yes.
CA: Without resources?
Gen. Franks: Yes. For some period of time.
CA: But it isn't now.
Gen. Franks: It is not. The regime is gone.
CA: But if I interpret you correctly, while the capture of Osama bin Laden is a frustrating prospect, your feeling is that finding Saddam Hussein is inevitable?
Gen. Franks: Right. Without a doubt. In the sweep of history, the capture or killing of Saddam Hussein will be a near-term thing. And I won't say that that'll be within 19 days or 43 days. But compared to tracking someone who is ideologically accepted and loved by some, like bin Laden, Saddam Hussein will be captured or killed. I believe this is inevitable. People ask me all the time, "Well, won't it be good when he's captured or killed?" And, I say, "Sure it will." Of course it will. It will be very helpful to us, because there are people who, as long as they believe he's alive, will form resistance, and so forth. But that'll come.
< 1 2 3 4 5 6 7 8 9 10 11 12 13 >
You must be logged in to post a comment.
Log In If You're Already Registered At Cigar Aficionado Online