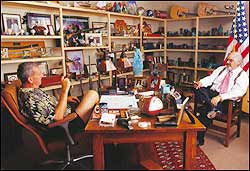 Photo by Gary John Norman
General Tommy Franks
Marvin R. Shanken conducts an exclusive interview with America's top general in the war on terrorism.
(continued from page 12)
CA: Last question. Do you ever think the day will come when peace will reign in the world and the threat from terrorism will be over?
Gen. Franks: It's not in the history of civilization for peace to ever reign. Never has in the history of man. Ever. So, I guess there's an honest answer. It doesn't mean it's the answer I like, but it is what I think—I doubt that we'll ever have a time when the world will actually be at peace. Because one of the characteristics of man is that he'll work hard for a better quality of life: a finer cigar, a better bottle of wine, more material wealth. And there'll be haves and have-nots. It is the nature of history. And it seems to me, when I think about the Greek civilization, Romans and, in fact, a number of others, the history has been that, when civilizations grow powerful, in some cases they grow lazy, and those less fortunate rise up and take it away from them. And so we've had, for thousands of years, wars on this planet. And I'm afraid that we're going to continue to have wars on this planet. Terrorism? A form of warfare. The use of incredibly small numbers of combatants to create huge problems. As long as terrorism can effectively get the military job done, some organizations, and probably some nations, are going to turn to terrorism. It is not a delightful prospect and my view is a reasonably old view. I think the way one protects our civilization and the way one protects our way of life is through strength, not through hope.
< 1 2 3 4 5 6 7 8 9 10 11 12 13
You must be logged in to post a comment.
Log In If You're Already Registered At Cigar Aficionado Online