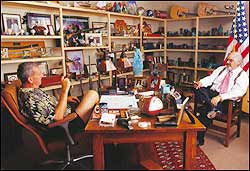 Photo by Gary John Norman
General Tommy Franks
Marvin R. Shanken conducts an exclusive interview with America's top general in the war on terrorism.
(continued from page 9)
CA: We're in this war against terrorism, and maybe it's like a book with a beginning and an end. Maybe there's an end. Or there's no end. And we've written chapters in this book on Afghanistan and we've written chapters in this book on Iraq. But there are other countries that, to greater or lesser degrees, are threats and there are problem countries that could require serious attention, whether it's Syria, Pakistan, Iran. Where does the United States have to focus its attention in terms of the fears and threats coming from global terrorism? Where is the next problem?
Gen. Franks: It's a fair question. But there actually are two issues. One is terrorists. Personalities. Cells. Groups. We're doing, in my view, a pretty fair job globally. We, being the international community, are doing a pretty fair job with the problem of terrorists.
There is a second problem, and strategically, it's much more significant. A much more resource- and time-intensive problem. It's going to last a long time. And that's the treatment of terrorism. The problem with terrorism is brought about by a lot of things. I read an article in The New York Times last week. I thought it was excellent. And it talked about schools in a number of places in the Middle East and Africa called madrassas, which are much more inclined to teach the ethic of terror than they are to teach the value of the arts, the value of calculus, mathematics and science. That's a problem of terrorism.
It has to do with culture, and it has to do with many other things. And in every case, in my view, where we see people associate this with Islam and with the Muslim faith, it is a bastardization of the religion. It is a manipulation of fact. This is not about a religion. This is about a form of extremism that happens to exist in the same part of the world where the vast majority is Muslim. I have too many Muslim friends to believe that the business of terrorism is some sort of a Muslim sort of thing. That is not fair to people who practice that faith.
CA: But there are certain countries that have really embraced terrorism and supported terrorism.
Gen. Franks: Off and on in the past. Otherwise, we would not have this list of state sponsors of terrorism. But look at Afghanistan, for example. We talk all the time about state-sponsored terrorism. I'm not sure that it has occurred to us as forcefully as it should that Afghanistan was the reverse. There was no state-sponsored terrorism. Afghanistan was a terrorist-sponsored state.
That's an interesting turn of words. It is not a common thing to see where the state is supported by the wealth and power of a terrorist organization. That was the case in Afghanistan. It's no longer the case there. Good for us for what has been done in Afghanistan. And good for us for what has been done in Iraq. Let me just ask you this. I ask myself sometimes. In the grand scheme of things, didn't we believe that the possibility for the export of violence from Iraq into the United States of America existed before the 19th of March of this year? And the answer is: without a doubt. We believed that the potential to come out of Iraq with violence into this country was real. Well, so how're we doing? What's the possibility now, irrespective of the difficulties with security and stability operations in Iraq? Wouldn't we say that the likelihood that terror being exported from Iraq into this country now is about zero? I would.
CA: But which countries should we be worried about in the future?
Gen. Franks: I won't tell you which countries. The ones on the state-sponsored list are obviously of concern to us; but let me give you a sort of a formula. I'll give you the ingredients of where I think our policy is and where I think our policy will go in the future vis-a-vis terrorists and vis-a-vis the states where we see a big terrorist problem. In three words: Convince. Coerce. Compel.
When we look at a country like Iran, when we look at Libya, when we look at Somalia, when we look at North Korea, we look at these countries and say, "Well, these are potential problems." I think, over the course of time, we're talking about diplomacy, and we're talking about convincing people and nations that it is not in their best interest to export terrorism. Coercing. Potentially compel. Then what I say is, "Welcome to the twenty-first century."
CA: What about Saudi Arabia? There are people that believe that they have two faces: the face of a friend and the face of a country that quietly has supported terrorism in the past for their own survival. Is that a fair commentary? And has that changed at all in the last few months?
Gen. Franks: That's a tough question. I do not think it's a fair commentary to say that the Saudis have supported terrorism for their own benefit. So no, I do not believe that. I believe the Crown Prince Abdullah is an honest man and is a friend of this country. And I believe that he is working to corral or curb the problem of terrorists inside Saudi Arabia. I believe that it is not uniformly true that everyone inside Saudi Arabia perceives the problem of terrorism to be as great as Crown Prince Abdullah knows it is. I believe that there is not a unity all across Saudi Arabia at every level that says, "We have a large problem and therefore we should attack this in a massive, head-on sort of way." And I believe, sir, that's what we read about. The internal politics, the internal dilemma inside Saudi Arabia. But I'll say this: I have a number of associates and I have a number of friends who are Saudis. And I believe that they do support the proposition of countering terrorism. And that's probably about the best that I can do with the Saudis.
CA: But is that recent behavior?
Gen. Franks: It is much more pronounced recently. I believe that we're seeing evidence of a greater leadership role in the face of terrorism by the Saudi leadership. Yes. So I do believe that, as we would say, "The burner is being turned up by the Saudis inside Saudi Arabia."
CA: But how do you account for the fact that 15 of the 19 individuals who rammed the four planes into U.S. targets on September 11th were apparently Saudi citizens?
Gen. Franks: I don't account for it. But I do not think it would be right to say that because 15 of 19 were Saudis, therefore Saudi Arabia as a state had something to with the attack. I believe that it would not be a stretch to say that extremism exists there. But a minute ago, when I talked about this extremism that is born in close proximity to a great many Muslims, I wouldn't want to get that confused with it being a Muslim view. As I said, that is just, by golly, wrong. I believe that a lot of this extremism that I've described has existed inside Saudi Arabia. And I think that it is against that extremism that Crown Prince Abdullah is doing an excellent job of standing up in the face of.
< 1 2 3 4 5 6 7 8 9 10 11 12 13 >
You must be logged in to post a comment.
Log In If You're Already Registered At Cigar Aficionado Online