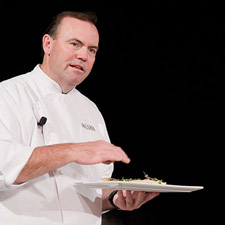 Celebrity Chef Charlie Palmer seen in this photo from the 2010 Big Smoke in Las Vegas.
Hail To The Chef
Whether he's in the kitchen or with a cigar, Charlie Palmer is always creating recipes and ideas for his restaurant empire.
(continued from page 3)
He smokes eight to ten cigars a month, relishing, what he calls, the relaxing qualities of a good smoke. "The times I've relaxed with a good cigar are among the times I remember most. There's a big terrace in the back of our Southampton house, and after a full day with my four sons and the barbecue and entertaining friends, I like to hang out on the deck with a glass of red wine and a cigar. With four young boys, you don't really have much time to relax. The periods of relaxation are getting smaller and smaller."
But then there's always the possibility of a retreat to the kitchen. "Sometimes I can just sit and think about one type of food, say, gnocchi, or salmon, or steak, and jot down 10 or 15 ideas about how to prepare it." And sometimes, Palmer says, those ideas come easier with a glass of wine on the table and a cigar in his hand.
Mervyn Rothstein, an editor at The New York Times, is a frequent contributor to Cigar Aficionado.
You must be logged in to post a comment.
Log In If You're Already Registered At Cigar Aficionado Online