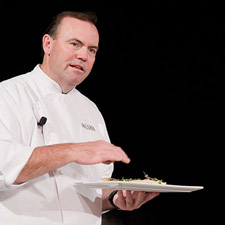 Celebrity Chef Charlie Palmer seen in this photo from the 2010 Big Smoke in Las Vegas.
Hail To The Chef
Whether he's in the kitchen or with a cigar, Charlie Palmer is always creating recipes and ideas for his restaurant empire.
(continued from page 2)
He is likely to spend much of the day hopping in cabs to and from his Manhattan establishments, discussing menu changes or employee problems. Sometimes he visits places where he'll be catering an event, such as a party that took place last year at the Whitney Museum of American Art. Back at his office, he might get construction updates by telephone on whatever venture he is planning next.
Once or twice a month, Palmer is in Las Vegas or California, running his frontier outposts. Last April, he was also shuttling down to Washington at least once a week to prepare for the steak house opening.
But Palmer still spends a good deal of time in his kitchens, as he did that pre-opening night at Kitchen 82 or the previous day planning spring menus at Aureole. "I work on new dishes whenever I'm in the kitchen," he says. "I love to be in the kitchen, because I'm away from the telephone and I can for a least a little while separate myself from the business side of things. And after all, when it boils down to it, the quality of the food and the dining experience is what it's all about. We should never lose track of the fact that it's the basic art of eating that counts."
In planning new menus, he says, the primary starting point is "the ingredients of the moment. It's about what's fresh, what's happening now. We think about a menu that makes sense with different textures and progressions, like from cold to hot."
The best seasonal ingredients, by necessity, are the plats du jour at Kitchens 22 and 82. "That menu has to stay seasonal," he says. "We can't afford to buy anything not in season and keep the price at $25." The other trick for those restaurants, he says, is to have a limited menu -- five choices for the appetizer, five for the main course and five for the dessert. "It's all about labor -- not having a huge kitchen crew," he says.
Palmer employs a staff of more than 1,000 at his restaurants coast to coast. Is he concerned about stretching himself and the quality he represents too thin?
"I wasn't sure I wanted to take on Turnberry," he says of the Las Vegas venture, "and maybe at this point we've reached our limit for a while, which is not to say we'll never do anything else. But what drives a lot of what I do is the fact that we have all these talented young people coming out of our kitchens, and they were all going to work for Drew Nieporent or someone else, because the opportunity to grow wasn't there for them. I was supplying everyone else with chefs. So I decided to find ways to keep them." Among the top chefs Palmer has trained over the years are Gerry Hayden, former executive chef at Aureole, Diane Forley of Verbena in New York City, and Michael Mina of Aqua in San Francisco.
Not far from Aureole, on the Upper East Side, Palmer lives with his wife, Lisa, and their four young sons, Courtland, 9, Randall, 8, and twins Eric and Reed, 5. They also have a house in Southampton, New York, on the South Shore of Long Island. It is here on vacation, late at night after his workday is over, when Palmer most likes to light up a cigar.
"I love to smoke them," he says. "Over the years, my tastes have gone back and forth, but most recently I've been smoking Griffin's. They're a refreshing, light, clean, easy smoke.
"I used to smoke many more maduros, the gutsy, heavy-duty kind of cigar and Macanudos were, and still are, a favorite. But I tend to find myself going to a lighter smoke, especially late at night. I tend to smoke most at 11 p.m. or midnight or one in the morning, after we're done with work, after a bite to eat, with a nice glass of wine. I love red wine, especially with a cigar. I find the tannins and the fruit make a great combination with a nice light smoke."
You must be logged in to post a comment.
Log In If You're Already Registered At Cigar Aficionado Online