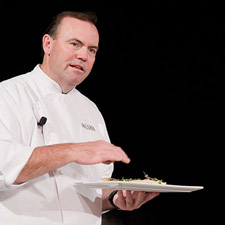 Celebrity Chef Charlie Palmer seen in this photo from the 2010 Big Smoke in Las Vegas.
Hail To The Chef
Whether he's in the kitchen or with a cigar, Charlie Palmer is always creating recipes and ideas for his restaurant empire.
(continued from page 1)
Palmer's father was a jack-of-all-trades: an electrician, a plumber, even a farmer. "He did refrigeration work, a little bit of farming, a lot of different things," says the chef, who himself has built his two-decade-long reputation by using America's best artisanal farm products and its  freshest, most seasonal food.
He is the fifth of six children, with four older brothers and a younger sister. "Two of my brothers are electrical engineers, and one is in the lumber business," he says. "I decided I wasn't going to follow them. I couldn't picture myself behind a desk all day. When I started working at the Colgate Inn, it was just a job. But it became more than that. I did some work preparing vegetables, things like peeling carrots and onions. But then one day a cook didn't show up and I got shoved into doing some of his work. Eventually, since nobody wanted to work the brunch shift, they said to me -- I was 16 years old -- that they were going to train me to become one of the brunch guys."
Around the same time, his neighbor dared him to sign up for her high school home economics class. "And I agreed," Palmer says. "But I wouldn't do it alone, so I got six of my buddies to take it along with me. Six football players in a home economics class -- just cooking, no sewing."
Then, gradually, came the revelation. "It got to the point where I thought maybe it wasn't a bad idea to get into the cooking thing," he says. "I went to visit the Culinary Institute of America and it was a real eye-opener. I began to see that there was a world of possibilities out there. I started studying the Larousse Gastronomique, and learning about the evolution of food over the centuries became a real interest for me. The other thing I liked about restaurant work was that there's a real immediacy to it. In a lot of businesses, you don't see the results of what you do or get a reaction to it for a long time. But one of the great things about this business is that you can see immediately on people's faces the results of what you've done."
After attending the Culinary Institute, Palmer spent several years cooking at French restaurants in New York, including La Côte Basque, and in France. He decided early on what his goal would be. "I knew that if I was going to be in this business for the long term, I wanted to own the business," he says. "A lot of businesses are tough, but this is one of the toughest, and I realized that if you're going to make the kind of commitment you need to be successful, you should own the business."
He left New York City for Westchester County, taking over Waccabuc, a restaurant at a private country club. "They gave me a free hand to do whatever I wanted, and it was an opportunity to experiment in an isolated situation, without being concerned about critics or public reaction."
Then, in 1983, came Palmer's crucial career move when he was chosen as the chef at the River Cafe, a popular restaurant in Brooklyn Heights with fantastic views of the New York harbor and the city's skyscrapers. "I thought it could really benefit me," he says -- and it did. "I thought it would be the perfect place for me to grow and be on a very visible stage. I was there for four years and it was an incredible opportunity." His new take on American cuisine first garnered two stars from the tough critics of The New York Times, and when a new Times critic visited a couple of years later, the two stars became three. Diners flocked to Brooklyn.
"Most of the good food being served in New York at the time was classical French or Italian," he says. "And I felt, and I still feel, that since I am as American as they come -- tenth-generation American -- to me the idea of the United States being the greatest country in the world but not having the greatest ingredients, or being able to prepare the greatest food, was crazy. That has changed tremendously."
After three years at the River Cafe, Palmer began looking for a town house, where he could "do the American Lutèce, to do for American food what André Soltner of Lutèce did for French." In 1988, he and his financial partners bought a place on East 61st Street, and the rest is culinary history. (Aureole remains top-of-the-line. The 2003 Zagat guide says that under its new executive chef, Dante Boccuzzi, Aureole is "blissful," "the epitome of class" and "runs rings around the trendies.")
These days Palmer's typical workday begins at 10 a.m. in his office on the second floor above Aureole's dining room, where he is greeted by e-mails from New York, Las Vegas and California. The e-mails describe what business was like the previous evening at all of his restaurants. The 90-seat Aureole takes in about $7 million a year; the new Charlie Palmer Steak in Washington, which opened last May, is expected to bring in about $8 million yearly.
You must be logged in to post a comment.
Log In If You're Already Registered At Cigar Aficionado Online