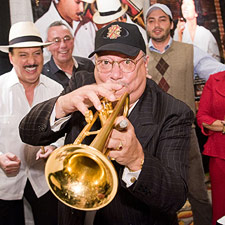 Arturo Sandoval played at the Fuente booth during the 2010 Big Smoke Las Vegas evening party.
For Love & Jazz
Cuban trumpeter Arturo Sandoval is living freedom's dream in front of audiences around the world.
(continued from page 2)
In 1990, Sandoval was scheduled to tour with the United Nations Orchestra, which had been formed by Dizzy Gillespie, one of Sandoval's mentors. "I went to the vice minister of culture and told him that I was going to be on the road for four months and it was too long to be away from my family," Sandoval says. After much back-and-forth, the government finally agreed to give Marianela and their young son permission to join him in London, but because her first son was of military age, his visa was denied. Nonetheless, the Sandovals went ahead with their plan to defect, and once his family arrived in London, Sandoval explained his plan to Gillespie, who helped set it in motion with American authorities at the U.S. embassy in Athens.
Although the defection was successful, it wasn't until 1993 that the family could get Leonel out of Cuba, along with Sandoval's mother and father. They now all live in Miami, and after much handwringing and accusations of communist ties, Sandoval became a U.S. citizen in 1999.
No matter where he lives, Sandoval says that he will live and die a Cuban. And that means he takes special pride in one of the country's great symbols: the cigar. "I started smoking when I was 14 years old, and I haven't stopped smoking them in 39 years," Sandoval says, a lit Punch double corona in his hand. He says his aunts worked as tobacco leaf strippers in a factory in Artemisa. He used to walk by the factory sometimes and stop to listen to the lector read the news or read from a book. "A cigar is a kind of style, a way of living, and it's a great feeling, especially after a good meal to have a great cigar. When I finish, I'm dying to burn a good cigar. It's like a vice. A little Cuban coffee. A little brandy. And after a sip of coffee, I love the taste of tobacco."
Sandoval smoked with his mentor Gillespie, who was also an avid cigar smoker. "We'd just sit together and talk," says Sandoval. He discounts any negative effects on his trumpet playing. "People ask me, 'Why do you smoke?'" says Sandoval, implying that it's bad for his breathing. "I just say, 'Maybe the cigar is the reason I'm able to blow this way, and if I stop smoking cigars, I won't be able to blow anymore.'"
Sandoval smokes his first cigar of the day after breakfast, another after lunch, one in the afternoon, one after dinner and, sometimes, one before bed. "I love a good cigar, one that you don't have to relight every three minutes." He says that he had almost stopped smoking Cuban cigars a few years ago when their quality declined. "It was so sad because Cuba produces the most incredible tobacco leaf in the world," he says, "and I was disappointed when I'd try to smoke one and couldn't." But he says that he hopes the quality returns. "Look, I'm going to die a Cuban, and cigars represent us and my country."
For now, Sandoval is content to keep exploring the frontiers of his musical creativity. "We have a saying, 'Don't go to sleep in the top of a tree, because if you fall asleep, you fall and hit the ground.' That's like my career. When I go to a concert tonight, no one cares how you played last night. You have to do your best in that moment. People don't have to come see you. It's a privilege that they do. You must keep yourself in shape, and practice and keep learning.
"I've heard people say, 'I don't have anything to prove," says Sandoval. "I don't agree with that. We always have something to prove. If you don't, you'd better quit. For me, every day is a challenge."
You must be logged in to post a comment.
Log In If You're Already Registered At Cigar Aficionado Online