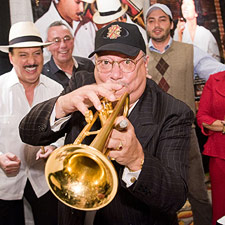 Arturo Sandoval played at the Fuente booth during the 2010 Big Smoke Las Vegas evening party.
For Love & Jazz
Cuban trumpeter Arturo Sandoval is living freedom's dream in front of audiences around the world.
(continued from page 1)
However, there was a problem. The band didn't have an extra trumpet, and the family had no money to buy one. His aunt, who was a seamstress, heard about his wish and bought him a coronet. "I'll appreciate that until I die,'' says Sandoval. "I started to blow it. I just figured it out." There was another bump in the road when he sought out a well-respected local trumpeter for some training. After blowing a few notes for the cranky old maestro, Sandoval says the man looked up and said, "Don't waste your time. Better you think about doing something else." For the young Sandoval, the criticism lit a fire under him. "I walked home, two or three miles, crying the whole way," Sandoval says. "But I got home, opened the case and I started blowing the horn, and I've never stopped." He adds that "I learned a lesson that day, and when I hear young musicians I always say, 'It's up to you what you make of yourself.' I'm only sorry I never had the chance to give that old man a private recital."
Amazingly, Sandoval never received formal trumpet lessons. He played and practiced, but that was it. One day in 1963, Sandoval saw a flyer for a scholarship program offering classical music training at the National School of Arts. He applied, and secretly went to Pinar del Río for an aptitude exam that was mostly gauged to test his musical ear. When the telegram arrived with his acceptance, he announced to his parents that he was going to go to Havana to become a full-time musician.
Sandoval continued his education and musical training until he was about 16, when the government formed a big band, known as the Cuban Orchestra of Modern Music. The first trumpet in the national symphony, Luis Escalante, also was tapped as lead trumpet in the big band. The announcement energized Sandoval, who had begun to chafe under the restrictions that he could only play classical music at the school.
"I was dying to meet Luis Escalante," says Sandoval. He says that Escalante's hobby was fixing cars, and because of his experience helping his father, he established a connection with the vaunted trumpeter. They became friends, and finally Sandoval told Escalante that he was a trumpet player, too. They started playing duets, and one day, according to Sandoval, Escalante asked if he'd like to take his place in the big band group. "I was speechless," Sandoval says. "I told him they wouldn't let me play." But after Escalante intervened, the young Sandoval became the last chair in the trumpet section. Three years later, at the age of 20, he became the first trumpet in the orchestra, which in big band parlance meant he really became the band's leader.
Then, the jazzman says, life threw him a curveball. On January 24, 1971, be received his induction notice into the Cuban military, a mandatory service for all young men. "It was the worst three years of my life," Sandoval says. He was required to clean barracks and build latrines, but the worst part was that he didn't have the time, or the place, to play his trumpet.
Nonetheless, when his three years were up ("three years, four days and seven hours"), he expected to resume his former duties as first chair trumpet. But the band director relegated him back to the sixth chair and reduced his salary from the 450 pesos a month he'd been earning as first chair to the 120 pesos he had received at the age of 16. "That was the first time I really wanted to leave Cuba," says Sandoval. "I decided to leave music and go back to my village and work."
The big band conductor, however, sought him out in Artemisa, telling him he'd talk to some people and get him back his old job. Within a short time, Sandoval was back in his first chair. "But we were playing for the national circus, and we were all disappointed. That wasn't why the orchestra had been created," he says. A small group of musicians in the orchestra decided to start playing jazz. "When the government found out, they threatened [us] by saying, 'Whatever you're doing, it's not good for the government or the country.'"
Sandoval and his fellow musicians prevailed and he formed an Afro-Cuban band called Irakere (the Yoruba word for "forest") in 1978 with saxophonist Paquito De'Rivera and pianist Chucho ValdÈs. By the early 1980s, it had become one of the premier Cuban musical groups in the world, fusing elements of rock, jazz and Cuban folk music, and even won a Grammy award. The government relented a bit, too, and let the band play on television in Cuba and perform public shows. But Sandoval couldn't shake the conviction that he wasn't allowed to pursue music the way he wanted to.
"One of my biggest inspirations came from a man named Willis Conover, who did the "Jazz Hour" on Voice of America, every day at 3 p.m. He played the latest records and had the news about the world of jazz. I got a lot of information that way," says Sandoval. It was dangerous to listen to the show, and when Sandoval was serving in the military, a sergeant heard him listening to VOA, and he was imprisoned for three months. The combination of the jazz world outside and his own conflicts with the government led him to begin plotting to leave Cuba.
Irakere began to tour worldwide, and Sandoval knew it was his ticket out of Cuba. But there were complications. He had met and fallen in love with a bureaucrat named Marianela Gutierrez, whom he married in 1975. Families were not permitted to travel together, and Marianela's son, Leonel, from her first marriage, and a son, Arturo Jr., whom she had with Sandoval, were never permitted to leave the country with him. Although Marianela did not originally share Sandoval's disillusionment with Castro's Cuba, she listened to her husband's complaints and eventually began to share his desire to leave.
You must be logged in to post a comment.
Log In If You're Already Registered At Cigar Aficionado Online