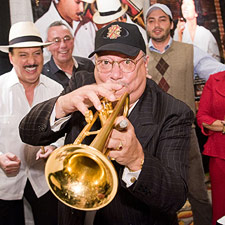 Arturo Sandoval played at the Fuente booth during the 2010 Big Smoke Las Vegas evening party.
For Love & Jazz
Cuban trumpeter Arturo Sandoval is living freedom's dream in front of audiences around the world.
The turquoise 1957 Chevy Bel Air glides up the winding drive under the peach-colored portico of the Biltmore Hotel, one of Miami's grand old buildings erected in the city's golden era. Sporting a tropical-print shirt, Cuban trumpet virtuoso Arturo Sandoval sits behind the wheel of the classic American car and lets the rhythmic melody of Latin music boom from the speakers.
The perfectly restored Bel Air is a rolling monument of Sandoval's life. It recalls his childhood in Cuba and his love of cars (Sandoval's father was an auto mechanic before the Cuban revolution). It's a reminder of his young adulthood in Cuba when he couldn't afford a car, but envied the aging relics from Detroit's heyday chugging along the streets of Havana. And it's a symbol of how far he has come since he fled Cuba with his family in 1990 during an international musical tour.
"I owe so much to my music," he says between puffs on one of the four to five cigars he smokes every day. "It saved my life. And, when I play today, it is from my heart, 100 percent."
The 54-year-old Sandoval comes from that world of jazz musicians most Americans don't understand or follow. His is not a household name, but whether you realize it or not, you have heard his music, and maybe even seen the 2000 HBO biopic For Love or Country: The Arturo Sandoval Story, starring Andy Garcia as Sandoval. Whether it's a Gloria Estefan arrangement, a movie score with a Latin influence or a live performance with Celine Dion at the Oscars, he has left his mark on music. Sandoval's résumé in the world of jazz reads like a Hall of Fame archive. He has played with Dizzy Gillespie and Lionel Hampton, performed on stage from Tokyo to New York and recorded 13 solo albums since arriving in America. He has won four Grammys and has more plaques for Grammy nominations in his Miami home than the walls can accommodate. He won an Emmy for his soundtrack of For Love or Country. In just the last year, he has completed a kind of audio anthology of 19 of the most influential trumpet players of the twentieth century, called Trumpet Evolution, and composed the original scores for two documentaries on the cigar-making Fuente family (see "A Love Story," page 263).
Music is his first love, but Sandoval also has a deep love of his homeland, although he doesn't like to talk politics or delve too deeply into the situation in Cuba. "I'm not a hero. I'm not a patriotic hero for Cuba. First is my family. My parents. My kids. And my wife. I have to try my best to give them the best life possible. I'm not a politician. I'm not a martyr. I am a simple man, a musician who is trying to give my family the best life possible," he says when the subject of Cuba comes up.
But he's also had negative firsthand experiences in Cuba that forever shaped his ideas about communism: being imprisoned, being prohibited from playing the music he loved and being separated from his extended family because of his decision to live outside Cuba. "Why can I not go back to my own land? I wasn't involved in any secret organization. I was just a musician. I want to live somewhere else. Why am I not allowed to come back to [my] land, my country, because of that decision?" he asks, with passion rising in his voice.
While he doesn't agree with Fidel Castro's policies, he thinks that the exile community in the United States hasn't always adopted the right course of action. "We've made a lot of mistakes, the exiles in the United States. We've made the Cuban people afraid of us, that we will go back and try to confiscate our property," Sandoval says. "But that's not what a majority of the people feel. They just want to be able to go back to their country and visit at least. You don't want to be there forever. We need a visa to be able to visit your own land. That's difficult to understand for people who grow up under freedom and democracy."
Arturo Sandoval was born on November 6, 1949, in Artemisa, a small town east of Havana in the Pinar del Río province, home of Cuba's finest tobacco growing region, the Vuelta Abajo. His family was poor, subsisting on income from his father's mechanics business. Despite his love of cars, Sandoval was never interested in them as a career. By the age of six, he knew his destiny lay elsewhere.
"I had a strong desire to be a musician," says Sandoval, "but my family didn't give me any support. My grandfather said musicians have a lot of trouble. They are hungry and they have alcohol and drug problems." Nevertheless, Sandoval began playing the congas and put together a mini-circus act with a cat on a high wire. He charged the neighborhood kids a penny to see the show. "It was my first business as a musician. My first capitalist idea," he laughs heartily. When his village organized an orchestra for local events, he joined and tried out a bunch of instruments, including the trombone, bass drum and the flute, which he didn't like because it made him dizzy. "I started looking at the trumpet and decided that's what I wanted to do," he recalls, as he sits in his private recording studio built in his recently purchased home in Miami.
You must be logged in to post a comment.
Log In If You're Already Registered At Cigar Aficionado Online