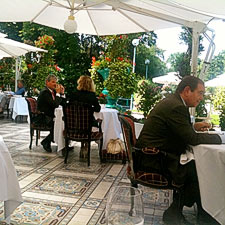 La Grande Cascade offers its patrons a cigar menu that boasts Cuban smokes, ranging from 25 to 35 euros.
La Grande Cascade, Paris
(continued from page 1)
The desserts were supremely satisfying—a caramel fantasy with green apple sorbet; and, my favorite, a strawberry-rhubarb melba, sort of an ice cream sundae, in a large wine glass.
The restaurant has an impressively comprehensive wine list. But if you want to keep it simple, go with the wines that accompany the market menu, chosen by the sommelier to fit the dishes. They can include an uncomplicated Gaillac, Domaine d'Escausses Gaillac Cuvée des Drilles 2008, and a Chateau St.-Roch Côtes du Rhône white 2008.
Then espresso—and the cigars. La Grande Cascade has a small but impressive Cuban selection that includes Cohiba, Ramon Allones, Hoyo de Monterrey and Partagas. They range from 25 to 35 euros. My favorite, when it's available, is always the Cohiba Robusto—an appropriately robust cigar that lasts long enough to relax with but doesn't occupy an entire evening. It's an elegant cigar, in a restaurant that defines a certain kind of elegance.
So sit back on that majestic and beautiful terrace, take in the flowers, the trees—and the cars in the middle distance racing to and from their appointments (or assignations?) and light up in the City of Lights.
La Grande Cascade
Allée de Longchamp
Bois de Boulogne
75016 Paris, France
Phone: 01 45 27 33 51
Reservations: 01 45 27 33 54
lagrandecascade.net
You must be logged in to post a comment.
Log In If You're Already Registered At Cigar Aficionado Online