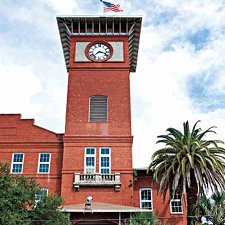 The El Reloj Factory in Ybor City, Florida.
A Tour of Ybor City, Florida
Phil Scott
Posted: June 3, 2010
(continued from page 1)
After three delicious Cuban sandwiches at Gaspar's Grotto ("Tampa's Only Pirate Bar & Restaurant") we returned to King Corona, where the same customers still sat smoking and sipping outside. Time moves slowly here. Jim said he was going in for a souvenir so Linda and I followed him in, ambling through the store (though no one was getting a shave or a haircut). Jim spent a few minutes inside the humidor, and I saw a clerk slip a box of Ybor Handmades into a paper bag, while Linda spotted a pile of empty wooden boxes for sale. She dropped to her knees and dug out a few fine examples, and pointed out a cardboard cigar box. It looked familiar even though I never checked out the brand.
"That was our kindergarten box," she said. "No one smoked them but everyone had a box." No one in kindergarten smoked them, I think she meant. Back in the day our school district required each of us to have one for supplies like crayons, erasers, a fat pencil and snub-nose scissors. For us late-boomers growing up in the 1960s, a small-town drug store never had a shortage of cigar boxes.
You must be logged in to post a comment.
Log In If You're Already Registered At Cigar Aficionado Online