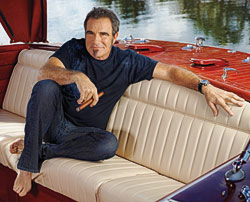 Being the drummer for the rock band Bon Jovi is a high-energy job with a long, demanding schedule. Tico Torres savors his downtime with a big cigar on his boat, docked at the end of his backyard in Jupiter, Florida.
Rock Steady
Bon Jovi drummer Tico Torres is known for pounding the skins with fervor, but at home he relaxes with fine art, golf and great cigars.
(continued from page 4)
"When I'm off the road enough time, I sculpt, then cast them in bronze. I do some ceramics. And I pull my own lithos. It's a lost art. I'm a purist. I'm a woodworker. Those are things I can teach my son. In an electronic world, I want him to be able to use his hands to make something out of wood. And he can teach me the computer."
Torres also heads his own line of designer baby clothes, under the Rock Star Baby label, that he started out of his apartment in New York in the 1990s. The idea, he says, was to blend traditional values with a rock 'n' roll edge. He also heads his own charity, the Tico Torres Children Foundation, for which he stages an annual celebrity golf tournament. The money he raises is donated to various children's causes; past recipients have included Home Safe, a facility for abused children; the Arc, which provides for children with intellectual and developmental disabilities; and a Florida school for autistic children. "The only ones who are going to change the Earth are the young kids," he says.
He's a musician, an artist, a philanthropist, a cigar smoker, but Torres prefers one title above all others: Dad. He was 50 years old when son Hector was born and he relishes the time he spends with his son.
"I waited until I was older to have my son so I'd have time for him," Torres says. "That's a big plus. The thing that surprised me about becoming a father was how it became the most important thing in my life. I actually felt like an adult for the first time, even though I was 50. There's a learning curve and I never stop learning because my ass is on the line all the time."
The thrill of performing on tour provides the satisfaction it always has, Torres says. But the lure of the road is now tempered by how much he misses his family.
"Live performing still feels the same and that's what keeps me going," he says. "Those three hours on stage are the greatest high in the world. So what I'm getting paid for, really, is the travel and being away from my family. When you're young, travel is awesome. When you have a family, that takes precedence. It also takes its toll.
"When they invent teleporting, I'll be the happiest guy in the world. I can play a show in Japan, and be home by 12:30."
Contributing editor Marshall Fine's work can be found on his Web site, www.hollywoodandfine.com
You must be logged in to post a comment.
Log In If You're Already Registered At Cigar Aficionado Online