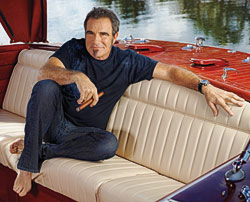 Being the drummer for the rock band Bon Jovi is a high-energy job with a long, demanding schedule. Tico Torres savors his downtime with a big cigar on his boat, docked at the end of his backyard in Jupiter, Florida.
Rock Steady
Bon Jovi drummer Tico Torres is known for pounding the skins with fervor, but at home he relaxes with fine art, golf and great cigars.
(continued from page 3)
"I got a shot of cortisone in each wrist but I just couldn't play," he recalls. "But I was saved by a company called Ahead, which had come up with these aluminum sticks with special wrappings. And I wear special gloves. I'd been beating the drums for so many years and I was always a hard hitter. I'd go through 16 pairs of sticks each show. Technology, rest and new sticks saved my career."
After each performance, Torres indulges his passion for cigars. "I definitely have a cigar after a show. I keep a humidor in my road case," he says. "There's nothing better after a show. Our stage manager, Bugsy, has his own humidor, too. We try different cigars, we trade cigars. When you're traveling around the world, you get to try a lot of different brands. But Montecristo is still my No. 1."
Torres's Cuban heritage brought him in close contact with cigars from an early age. "Being Cuban, I watched my father and grandfather smoke cigars," he says. "I started smoking when I was 16. In terms of cigars, I'm self-taught. It's what you like, a flavor thing. I like a middle kind of cigar, a Montecristo or a Dominican Avo. A big cigar is good after dinner. For golf, I like the smaller ones.
"I'm a romantic, and to me, that's a romantic picture: Latin music, dominoes and cigar smoke. Seeing a Cuban man with a cigar, it's like an extra finger. It's that comfortable. To me, it makes me feel my heritage. There's a romanticism to that kind of old-world feeling. To me, cigars were never a fad. They're a way of life."
Torres relaxes with his cigars, and has four humidors spread throughout his house. "The most expensive cigars I ever bought were $800 for a box, $40 each. But some people will spend $225 on an ounce of Cognac. To me, a cigar provides more enjoyment, pure enjoyment. A cigar is an event."
His house in Jupiter, where he's lived since marrying his third wife, Maria, eight years ago (his second wife was supermodel Eva Herzigova), is testament to the other passion in his life: art. The walls are covered with paintings and other artwork he has collected. Half of his garage (the part not devoted to his drums) is filled with the tools he uses to create his own artwork: brushes, paint, easels and the like.
He started sculpting and painting when he was five and continues to work seriously in as many media as he can. In December 2009, he had a show of 50 pieces at the MAC Art Group in Miami, and has shown in SoHo and elsewhere over the years.
"Art, that's my spiritual side," Torres says. "I don't need anybody to do it. I get my feelings out and don't get arrested for it."
"You hear about stars who paint, but Tico's work is very, very good, considering how much time he's devoted to his music career," says Mary Ann Cohen, founder of the MAC Art Group. "There's an emotional truth that cuts through all his work. There's a rawness of emotion that you don't see unless an artist is very accomplished. He could be a success if he only worked as an artist. He's that good."
Torres doesn't have the time to devote solely to art, but enjoys time off the road to focus on it. "When I paint, I paint," he says. "I go into painting mode and paint for 12 hours a day. And time goes by so fast. At the end of the day, I'll think, 'Hey, I forgot to eat.'
You must be logged in to post a comment.
Log In If You're Already Registered At Cigar Aficionado Online