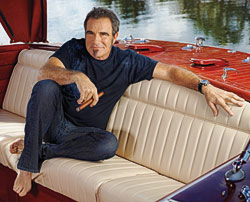 Being the drummer for the rock band Bon Jovi is a high-energy job with a long, demanding schedule. Tico Torres savors his downtime with a big cigar on his boat, docked at the end of his backyard in Jupiter, Florida.
Rock Steady
Bon Jovi drummer Tico Torres is known for pounding the skins with fervor, but at home he relaxes with fine art, golf and great cigars.
When he performs around the world as the drummer for the mega-rock band Bon Jovi, Tico Torres gets screams of adulation—but when he drives his Denali into the Admiral's Cove golf club near his home in Jupiter, Florida, the girl at the gate waves him through with a smile and a "Hi, Mr. Torres!"
He gets the same treatment from the staff as he walks through the club's main building and into the dining room. Compact and muscular, with neatly sculpted (and graying) sideburns and soul patch, dressed all in black ("because I'm a musician, and from hanging out with Gary Player"), Torres slides into a seat near a window, offering smiles and "How are ya's?" to other members, who seem to take a certain protective pride in having a celebrity as a fellow regular at the club.
Torres orders an omelet with ham and onions, bacon on the side. "My son (six-year-old Hector) came to me the other day and said, 'Dad, you're famous,'" he says. "When I asked where he'd heard that, it turned out the neighbor's kids had told him. He had no idea. It's a little strange when your son notices."
He's a member of one of the rock world's bigger acts. Bon Jovi has sold 120 million albums and 34 million concert tickets in its 27 years, but Torres enjoys relative anonymity.
"I don't mind being in the background," he says. "As the drummer, I get to watch the show and perform. I don't mind walking into a room where nobody knows who I am. There's a beauty to that. I started playing for the sheer joy and creativity of it."
The meal finished, he warms up at the course's driving range, then lights an Avo cigar as he heads for the first tee.
He cranks his drive down the middle of the fairway, then lofts a 3-iron to within a club's length of the par-4 hole, putting to claim a birdie. "I started with a handicap of around 20 and brought it down to about a nine," he says. "But when I haven't played for a while, it's more like a 15."
Like many golfers, Torres has found that cigars and golf go hand in hand. He typically favors recent vintage smokes, but one year while playing in the Dunhill Pro-Am at Leopard Creek Country Club in South Africa, the club's founder, Johann Rupert, offered him a cigar from the 1950s. "That was such a treat," Torres says. "Supposedly, after two years, a cigar loses some of its life. Generally, I prefer a cigar from my era. But those cigars tasted really good."
Golf is Torres's outlet for relaxation as well as his exercise when Bon Jovi is on the road. While the other members of the band head for the gym on tour, 56-year-old Torres uses his days off to hit the local links.
"I've met a lot more interesting people through golf than through my career," says Torres. "Willie Nelson got me into golf. I love the integrity of the game. You meet people and spend the day doing things together. You might be from two totally different walks of life but you have that time together."
You must be logged in to post a comment.
Log In If You're Already Registered At Cigar Aficionado Online