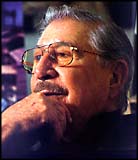 Martín, circa 1999.
Pedro Martín, 1921-2010
Cigar luminary Pedro Martín, founder and former owner of Tropical Tobacco, died Wednesday at 89 years old. He was a man whose storied career brought many brands to the market and was dedicated to tobacco.
In 1936, at only 15 years old, Martín began working in his father's cigar factory in the Cuban city of Cienfuegos, though he'd been around tobacco since childhood, working in his family's tobacco fields pulling weeds and keeping the plants clean. His family produced a small cigar brand in Cuba called El Veguero (not to be confused with Vegueros) that was only sold locally. The family factory also produced the Cuban cigar brand Commandos, a line rolled especially for American soldiers during the Second World War.
By 1950, the family had established Tabacalera Martín in Cuba, but Castro's confiscation and nationalization of the entire industry forced Martín and his family out of communist Cuba and into Detroit. In 1961 he worked as a cigar blender for an operation called DWG Cigar Corp. where he used his palate and developed his blending skills to approximate the Cuban cigars that DWG used to make before the embargo.
"One of the reasons they hired me was to find a replacement for Cuban tobacco because they had been using Cuban tobacco before the embargo," Martín told Cigar Aficionado's Gordon Mott in a 1999 interview. "That was the place where I learned how to really create a cigar blend… If you know tobacco, you know how to cure tobacco and how to make a simple blend."
In 1978, Martín started Tropical Tobacco, which introduced such brands as Solo Aromas, Particulares, Cacique, Maya and V Centennial. At one time, Martín had cigars made in Nicaragua, Honduras and the Dominican Republic.
After nearly three decades, Martín sold Tropical to Eduardo Fernandez of the agricultural conglomerate Aganorsa in 2002. He continued training rollers and blenders and also acted as a leaf broker for Fernandez.
Tropical continues today with successful brands such as Ilusione and Casa Fernandez, and is supplied with tobacco from Aganorsa.
Pedro Martín is survived by his wife, America, along with his sister, his three children, grandchildren, great-grandchildren and numerous nieces and nephews.
"He was a man who loved his family and loved the business," said his daughter Maria Eulalia Martín." One of the most important things he taught me about the industry is that we are not competitors. We are all friends and we all help each other. He believed in this business and in the integrity of the leaf."
You must be logged in to post a comment.
Log in if you're already registered.
---
---
Search our database of more than 17,000 cigar tasting notes by score, brand, country, size, price range, year, wrapper and more, plus add your favorites to your Personal Humidor.
---
---