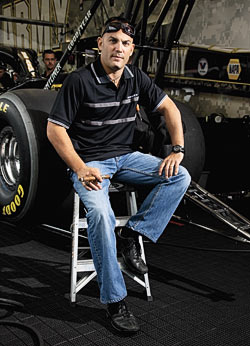 Photo by Kevin Zacher
Tony Schumacher: World's Fastest Man
Drag racer Tony Schumacher runs on nitromethane, but slows down for a cigar.
(continued from page 1)
He's now sitting behind the U.S. Army's two large trailers in a tiny passageway wedged in between the back of two other sponsor trailers. Schumacher has just lit up a Graycliff Purple Label Château Grand Cru. He calls the Graycliff "mouth watering," and remembers first trying the red and blue labels on a trip to the Bahamas, when Schumacher met Fidel Castro's former cigar roller, Avelino Lara. At the 2007 ESPY Awards, he had his first Purple Label Graycliff. "There are thousands of cigars I like," Schumacher says, including the Winston Churchill, the La Gloria Cubana, Fuente Fuente OpusX and many of the other brands fans often bring him at NHRA events.
"It's overwhelming," Schumacher says about these days at the races. "People pulling, everyone needs something and you don't want to be aggravated, because if you are…" At which point Schumacher's cell phone rings. "No problem," he says, after listening to the caller "I have day passes in my pocket. I don't know who's here yet. We'll get it handled."
Putting his phone back in his pocket the man once dubbed The Fastest Man on Earth says, "I've always been very good at short attention span situations. But this is what I love about the cigar. You don't force it. It's the one thing I've found that you cannot rush. I can't outrace a cigar. I can't outfox it. This is the ultimate in enforced relaxation. You've got to have a moment of silence and get away. If you don't, you'll be angry all the time. You'll feel like you're getting pulled in all directions. Hey, I love my sister, and she wants to get together for dinner, but I've got to get prepared for the race. I tell folks, 'The outcome of the party Sunday night depends on what I do this week.' For you all, it's 100 percent entertainment. For me, it's 100 percent work. So you've got to be able to take that time, smoke a cigar and then come out and say to everyone, 'OK, I'm ready.'"
Though typically he'll smoke one or two a day, Schumacher believes, "I could smoke a cigar any time except when I'm sleeping."
There's one qualifying race this Friday afternoon, an integral part of the lineup process leading to Sunday's elimination tournament. But Schumacher's speed is disappointing: a mere 5.25 seconds.
The following day, Schumacher looks back on what happened.
"It's all part of the game, all a matter of gathering data," he says. "There is never a point in panicking."
Seemingly undaunted, he and his team make their way to the track for the day's next qualifying race. Some fans cheer "You're number one, Tony!" He makes eye contact, takes time to sign more autographs and heads for his hot rod.
Courtesy of Auto Imagery
This race is much different. Schumacher bolts in at 3.772 seconds, the second quickest time in NHRA history. His speed of 320.58 mph clocks in as the second fastest in NHRA history as well.
You must be logged in to post a comment.
Log In If You're Already Registered At Cigar Aficionado Online