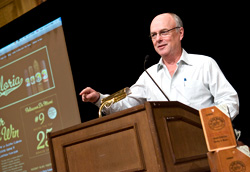 Gordon Mott at the podium.
Part Three: Las Vegas Big Smoke Sunday Seminars
Roll Your Own With Team La Gloria
It was Napoleon who said that an army marches on its stomach. In other words, a well-fed group of troops is a more efficient one. The same can probably be said about rolling cigars. On Sunday morning, some 500 well-fed cigar enthusiasts had just finished a hearty breakfast hosted by celebrity chef Charlie Palmer. But when they re-entered the conference room, they found that it had been transformed into a cigar rolling gallery. Each seat had a place setting consisting of a hard plastic mat, a razor blade, a wrapperless cigar, and a small cup of vegetable glue, or gomma.
"If you guys thought that little cup had a shot of Cuban coffee in it, I'm very sorry," joked Michael Giannini, General Cigar's director of Team La Gloria.
The entire setup is designed to emulate a cigar factory, while master roller Leo Peraza constructs his cigars up on stage. His skillful hands are projected onto large video screens as he works so the crowd can see how to stretch, cut and roll the wrapper leaf onto a cigar. Every roller is handed a piece of Ecuadoran Sumatra leaf.
Master cigar roller Leo Peraza shows his form.
There are two aspects to this seminar. Firstly, it is a hands-on tutorial on how to apply wrapper to a cigar, but, secondly it is a competition. At the end of the seminar, the one who has rolled the best cigar wins a La Gloria Cubana Serei R Limitada Humidor from 2006 filled with 30 cigars, as well as a trip to the factory in the Dominican Republic.
Giannini has been hosting this event for years, but this was first time that Ernesto Perez-Carrillo was not part of the program. The face of La Gloria Cubana for many years, Perez-Carrillo is no longer with General Cigar, but what Giannini did was to introduce Team La Gloria: "Papa" Leo Peraza, the roller Yuri Guillen, general manager; and Rick Rodriguez, billed as premium cigar apprentice.
"This is really a hard process to roll cigars," said Giannini, "and we're going to make fun of you."
One of the more creative takes on a cigar.
The playful, good-natured ribbing of poorly rolled cigars has always been a signature of the Roll Your Own seminar. As Leo showed how to cut the wrapper into neat sickle-shaped pieces, you could see some attendees following his instructions perfectly, others cutting their leaves to shreds. Then Leo showed exactly how to apply the wrapper and how to finish it off with a neat, pigtail cap.
"If you roll you cigar with veins up instead of down," said Giannini, "it will look like you're wearing your pants inside out." Giannini found someone who made this fatal mistake and held up his cigar for ridicule. "This is what you don't want." Giannini found another wrinkly cigar to mock. The wrapper was almost falling off. "OK, what are we going to call this one? Elephant's leg or granny's panty hose?"
Laughter erupted in the room. Everyone seemed comfortable with the puritanical nature of the competition: if you roll well, you are rewarded, if you roll poorly you get a good zing from the stage.
Winner Dave Reid of Richmond, Virginia, with Team La Gloria.
As the session came to a close, cigars were collected for review. Consolation prizes were given for ugliest cigar and most creative cigar. One person created what looked like a tobacco voodoo doll, another roller made a gondola and someone else took the cigar, dipped it in chocolate and covered it in sprinkles. One cigar submission looked as though it had been put through a meat grinder. Rollers of these particularly funny, albeit unsmokeable sticks, received boxes of El Rico Habano, La Gloria Cubana Serie R and Reserva Figurado cigars just for making the crowd laugh.