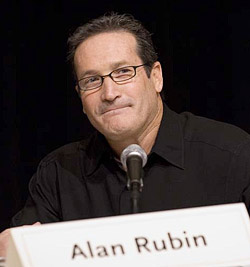 Alan Rubin, the owner of Alec Bradley cigars, spoke about surviving in the post-cigar-boom world.
Part Two: Las Vegas Big Smoke Saturday Seminars
Boutique Cigar Brands
Many of the cigar smokers were well into their Litto Gomez Diez Chisel Puros. It was Cigar Aficionado's number three cigar of the year for 2008 and Litto Gomez spoke about the cigar during a ten-minute cigar break. While the spice and flavor of the Dominican tobacco was starting to set in, Gomez stepped off the stage and David Savona stepped on to introduce three boutique cigarmakers for the next session: Alan Rubin of Alec Bradley Cigar Co., Sam Leccia of NUB and Cain, and Pete Johnson of Tatuaje Cigars, but only Leccia and Rubin were in the room. Johnson was nowhere to be found. Rubin brought a jovial tone to the panel by showing up wearing two sleeves of fake tattoos which, from far away, looked very convincing.
"Having a panel of tattooed cigarmakers is very important," joked Rubin.
All the cigarmakers on the panel started with a passion for the cigar industry and have, within the last few years, grown exponentially in popularity. Although none faster than Sam Leccia, whose NUB and Cain cigars are made by Tabacalera Oliva S.A., who began an aggressive marketing campaign as soon as his brands hit store shelves.
"I've been smoking cigars since high school," said Leccia. "In 2000, I went to a factory and was intrigued and blown away by what it takes to make a cigar. I didn't have access to any tobacco so I would actually take apart cigars and mix them together just to play around. Then I became a territory rep for Oliva."
Savona took the mic and called again: "Pete? Pete are you out there?" There was some laughter throughout the crowd and Savona prompted Rubin to speak.
Alan Rubin was an importer of what he called "hard goods" before entering the cigar business in 1997.
Moderator David Savona gave Pete Johnson some good natured ribbing about showing up late.
"There's something about waking up every morning and loving what you're doing," said Rubin. "It's easy to fall in love with the business. Everyone is passionate and I was given an opportunity. Unfortunately the timing was bad. The boom was over."
Eventually, Rubin met cigarmaker Hendrik "Henke" Kelner who made his Occidental Reserve brand. Rubin did everything from pass out his cigars at golf courses to send them straight to tobacconists at a competitive price point. "Ultimately," he said, "this is a relationships business."
Then a shaken Pete Johnson appeared bleary eyed and out of breath.
"I'm very sorry, this is not an insult to the panel or to anyone," said Johnson. Apparently he had met a wine maker the night before and had been sampling his work until 6 a.m.