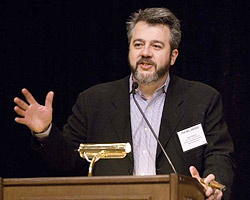 David Savona leads the discussion on the long journey of a cigar, from tiny tobacco seed to boxed smoke.
Part Two: Las Vegas Big Smoke Saturday Seminars
Seed to Box: A Cigar's Journey
(continued from page 1)
Sathya Levin, vice president of Ashton Cigars.
Plasencia spoke extensively about the fragile nature of cigar tobacco and the many maladies that can befall a crop. "All stages have their dangers," he said. If the weather is either too dry or too humid, the tobacco will be adversely affected. Farmers tend to favor dry weather for a growing season as they can always irrigate their crops, but if they grow during a wet spell they can't protect the tobacco from being washed out.
The fertilizing process is also a delicate one and must be done in exacting amounts as an overdose of nitrogen will kill the leaf's flavor. Planting legumes in the off season is a method used to keep Ph levels in check. Even after the tobacco is picked it is still highly susceptible to mishaps, he said. "The curing barn can spoil an entire crop in one day if the air circulation is wrong."
Experimenting with new types of tobacco is also an ongoing process for tobacco growers, Plasencia said, adding that it takes three years to find out if an innovation works. "Tobacco speaks to you. You just have to listen."
Photos by Sjodin Photography
CLICK BELOW TO READ ABOUT THE SATURDAY SEMINARS
Top Three Cigar Tasting
The Best of Cigar Cinema
Fighting for your Rights
Cuban Cigars
Boutique Cigar Brands
Lunch with the Fuentes
CLICK BELOW TO READ ABOUT THE SUNDAY SEMINARS
Charlie Palmer Cooks Breakfast
Roll Your Own Cigar With Team La Gloria
Bourbon Rules!

CLICK HERE TO READ ABOUT THE EVENING EVENTS