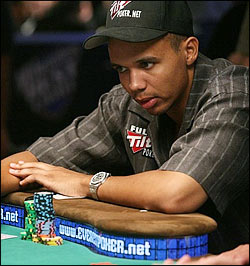 Phil Ivey, known as the Tiger Woods of poker, once won $16 million in three days playing heads-up against Texas billionaire Andy Beale.
The Wizards of Poker
Certain players consistently win year in and year out. We select the top 10 pros you don't want to tangle with.
(continued from page 2)
Part of Negreanu's success comes from his ability to read opponents—an image that's been fostered on the TV show "High Stakes Poker" and is well illustrated in a World Series hand he played (see it at youtube.com/watch?v=zV829yG2Kcc). Erik Seidel points out that Negreanu uses his reputation to leverage advantages at the tournament tables, which sometimes results in free cards and frozen opponents. "Daniel takes people out of their comfort zones and makes them play hands that they shouldn't," says Seidel, adding that Negreanu is particularly adept at turning his public image as a nice guy into a big edge against amateurs. "He's a creative thinker who is clearly comfortable in all the games. Daniel had one unbelievable year, where he won $4 million, and he has consistently done well. He may very well be the best tournament player."
BARRY GREENSTEIN Poker Brain
Few people possess enough intelligence, versatility and social skills to succeed in both the business and poker worlds. Barry Greenstein has managed that feat. Between 1984 and 1991 Greenstein worked for the company that eventually became Symantec, helping to develop a wide range of software products. The whole time, though, Greenstein was making more money at the poker tables than the software firm was paying him. After turning to poker full-time, he took his first shots at the Big Game, where he was thought to be a fish and was welcomed with open arms. In short order, however, Greenstein established himself as a winner, at all the games, and later explained that he entered that highest realm of poker with no ego at all. He simply, and correctly, believed that he'd be able to make lots of money.
Eli Elezra points to Greenstein's mathematical understanding of poker and his ability to play the game with little emotion. "If Howard Lederer is the professor of poker, then Barry is the genius," says Elezra. "If we want to talk about certain hands, about percentages, about outs, about the optimal way to play, then we turn to Barry. He is so solid." But, Elezra adds, Greenstein is not as straightforward a player as that makes it sound. "He knows how to sense weakness and take advantage. Plus, his patience is unbelievable. I've played 18 to 20 straight hours with Barry and watched him maintain focus while nursing a small stack like nobody else in the game. If he loses, he shows just a tiny bit of disappointment, always keeping his composure and waiting for the next opportunity."
PHIL HELLMUTH Tournament King
Having inarguably earned his nickname, Poker Brat, Phil Hellmuth is an easy pro to dislike. He blatantly bullies weaker opponents, explodes at less seasoned players and rarely seems to take winning or losing with a whole lot of graciousness. That said, his skills at no-limit tournament Hold'em are pretty much unassailable. Hellmuth has won 11 WSOP bracelets, more than anyone else, and has established himself as the most recognizable personality in the game. It's allowed him to attract loads of sponsorship deals and speaking engagements.
Some in the poker world claim to be embarrassed by Hellmuth's notorious outbursts. Others, like Erik Seidel, view them as a tactic. "He intimidates people, he gets people afraid to play pots with him, and all his chatter makes it more difficult for them to think," says Seidel. "Sometimes they lose their minds a little bit." It's an approach that works well against the many amateurs that tournament pros inevitably find themselves up against. But what about the other experienced pros that Hellmuth has had to get past to earn his bracelets? "He has more trouble against the best players, though he obviously has to be able to beat them," says Seidel. "What he does is a bit of a mystery. But it works." A cornerstone of the Hellmuth approach is small-ball poker, which involves playing lots of hands and making many small raises. Despite this approach, says Seidel, "he paints a picture for people of always having good cards. Clearly, his tournament record is remarkable."
PHIL IVEY Best of the Best
Phil Ivey emerged on the poker scene in the 1990s as a video game fanatic who played increasingly escalating stakes in Atlantic City casinos. Then, at the start of the next decade, came a jaunt to Southern California, where he rented a room upstairs from the Commerce Casino's legendarily busy poker room. According to Jerry Stensrud, who runs the Commerce room, "Every morning Phil would start his day by playing $100/$200 poker. He got quite a reputation."
These days Ivey is hailed by top online players as the toughest to beat at nosebleed stakes of no-limit Texas Hold'em and pot-limit Omaha. Barry Greenstein, who knows Ivey as well as anybody and has played many hours against him in Bobby's Room, describes Ivey as "a bit of a chameleon" who can change his playing style and take opponents out of their comfort zones. "Phil seems to figure out what opponents will do and what will give them problems. He stays one step ahead of you more than anyone else does. As soon as you think you know he's going to call, he pulls the rug out from under you and does something else. I would rarely say that somebody is the best player. But Phil has been taking on all comers, at the highest stakes, and from what I see he wins the most. I don't know what other metric you can use."
You must be logged in to post a comment.
Log In If You're Already Registered At Cigar Aficionado Online