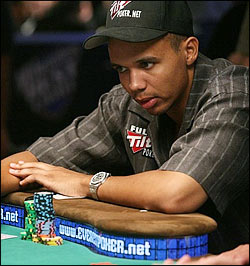 Phil Ivey, known as the Tiger Woods of poker, once won $16 million in three days playing heads-up against Texas billionaire Andy Beale.
The Wizards of Poker
Certain players consistently win year in and year out. We select the top 10 pros you don't want to tangle with.
(continued from page 1)
Veteran poker player Erik Seidel describes Huck Seed as "the Phil Ivey of his day." And he's right. Back in 1996, when Seed took $1 million by winning the World Series of Poker championship, he was already known around town as a top cash-game player and had built a sporty reputation by accepting all sorts of offbeat prop bets. Hobbled, however, by some bad habits and unfortunate breaks, Seed all but disappeared from the elite poker circuit for a number of years. Recently, though, he's surfaced and appears poised to reclaim his former glory. By recent tournament results alone, he's establishing himself as a top live heads-up Texas Hold'em practitioner, and his final tabling of the $50,000 buy-in H.O.R.S.E. event at the 2008 World Series of Poker is indicative of Seed's broad-based skills.
In 2005, when Phil Hellmuth won the National Heads-Up Championship, he acknowledged, "Huck had been my toughest opponent." Long a supporter of the lanky pro who left Cal Tech to pursue a career in poker, Hellmuth sounds impressed by Seed's recent winnings, which include finishing first in this year's National Heads-Up and last year's Canadian Open Poker Championship. "Huck is extremely tough at heads-up," says Hellmuth. "He focuses in on playing his opponent very well. He's continually changing gears and recognizing the importance of playing his cards based on where he thinks his opponent is at and what that person is capable of doing." According to Hellmuth, when Seed was at the final table at this year's Heads-Up, going against Vanessa Rousso, "he played so well that Vanessa may have had zero chance of winning."
ERIK SEIDEL Risk Manager
At a certain point, most people who no longer need to play poker for money or accolades lose interest in the game and wander away from it. Not Erik Seidel. As one of Full Tilt's original sponsored players, he's achieved serious riches. But the way he continues to go at it, you'd think that he needed to win in order to eat. Over the last three years, Seidel has averaged more than $1 million annually in tournament winnings; he has snared eight World Series bracelets during the course of his career and captured his first World Poker Tour championship in 2008. Prior to winning, Seidel characterized his lack of a WPT finish as "something missing from my résumé." No longer.
Howard Lederer first met Seidel in the 1980s, when both players were bouncing around New York City's gambling scene. Lederer is one of the people who took a flyer by backing Seidel in the 1988 WSOP (in his very first tournament, Seidel shocked everyone by finishing second to Johnny Chan) and has always had plenty of faith in Seidel's skills. "Erik is unique in that he is incredibly careful, almost conservative to a fault; but when he thinks he has the best of it, he will bet big," says Lederer. "He's willing to take calculated risks in pushing small edges. Few poker players have that combination, where they are cautious but also able to put serious money behind their convictions. For as long as I've known Erik, he's had this quality of jumping in with both feet, but only when the water temperature is exactly right."
PATRIK ANTONIUS Short-Handed Specialist
Born in Finland, Patrik Antonius came to America to attend Averett University, in Virginia, on a tennis scholarship. But, already an accom-plished online poker player, he dropped out of school after only one year and hopped a plane to Vegas. Considering his competitive nature and adeptness in the one-on-one game, it's not surprising that Antonius excels at heads-up poker. At the time of this writing, he is currently competing in the Durrrr Challenge. As of May 13, Antonius had played 13,556 hands and won $391,704. "When playing two-, three- or four-handed, Patrik is a tactician who knows how to put pressure on people and make them do things that they don't want to do," says poker stalwart Barry Greenstein.
Antonius is so skilled at playing short-handed that when he began competing in the Big Game (where success requires participants to excel in at least nine different forms of poker), he was able to overcome deficiencies simply by waiting for his number of opponents to shrink. Though Antonius has no qualms about playing live poker, he is strongest on the Internet, where he has multi-tabled his way to more than $6 million of profit over the last 12 months. "Patrik is the most dangerous guy," says Ilari "Ziigmund" Sahamies, a fellow Finn who frequently battles Antonius in the so-called nosebleed-stakes games online. "He manages to be solid but treacherous, playing so aggressively that you never know what he has. He bluffs at the right times and never does anything stupid. He's one of the few players that I don't like going up against."
DANIEL NEGREANU Card Reader
When it comes to tournaments, Daniel Negreanu's record is singular: without the benefit of a Main Event windfall, he's No. 2 in tournament winnings. As opposed to board leader Jamie Gold (the lion's share of his poker profits has come from a single, charmed World Series of Poker championship in 2006), Negreanu has been a consistent tournament finisher since 1998. Most stunning of all, Negreanu enjoyed a run during 2004 and 2005 that earned him poker's hat trick: he was named player of the year by the World Series of Poker, Card Player magazine and the World Poker Tour.
You must be logged in to post a comment.
Log In If You're Already Registered At Cigar Aficionado Online