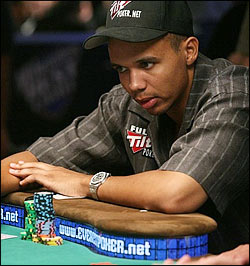 Phil Ivey, known as the Tiger Woods of poker, once won $16 million in three days playing heads-up against Texas billionaire Andy Beale.
The Wizards of Poker
Certain players consistently win year in and year out. We select the top 10 pros you don't want to tangle with.
DOYLE BRUNSON Iron Man
Doyle Brunson has played longer and at a higher level than anyone else in the game of poker. Over the last few years, despite competing in fewer and fewer tournaments, the 10-time World Series bracelet winner has still managed to take down in excess of $200,000 per annum. These tournament profits may pale alongside the winnings of today's tournament pros, but at 75, Brunson is generally more focused on playing in the Big Game—the high-stakes competition in Bobby's Room at the Bellagio in Vegas—than angling for prize money in the richest tourneys. In fact, according to Eli Elezra, another Big Game regular, it's usually Brunson who gets the action going these days.
Several years ago, when Chip Reese was still alive, Elezra remembers that Brunson's skills had slipped a bit. "Chip used to call me and tell me to make sure that Doyle is coming," says Elezra. "He is the old man, and his game had dipped down from where it was during its prime. We enjoyed good games, with Doyle misplaying hands." The last five years, though, have been different. Brunson's game has rebounded markedly. "The guy's a big winner, he picks his spots, he bluffs, he shows bluffs, he reads people," gushes Elezra. "I'll take Doyle against any of the Internet players. When he was in town, going up against Tom Dwan and the other kids, I begged Doyle to give me a piece of his action. He sold me 25 percent and I was so happy."
TOM DWAN Master Multitasker
After a short stint in college, 23-year-old Tom Dwan was making so much money at online poker that he lost his desire to continue studying. Dwan, known by the moniker "durrrr," quit school and torched the online poker world, emerging as a consistent winner in the highest stakes games, playing multiple tables as well as anyone and quickly turning into the kind of opponent that few people want to square off against. To encourage action, he issued what has become known as the Durrrr Challenge: he will play anybody except fellow online specialist Phil Galfond (for reasons that have more to do with friendship than a lack of courage) at four tables of no-limit Hold'em or pot-limit Omaha, for blinds of $200/$400 or higher. If, after 50,000 hands, the opponent is ahead, he wins a sweetener of $1.5 million. If durrrr is ahead, he gets $500,000. The 3-to-1 overlay has attracted Patrik Antonius (who was in the process of playing as this issue went to press). Interest has also been expressed by Phil Ivey and fellow high-stakes pro David Benyamine.
The challenge is indicative of Dwan's belief in himself. Over the last year or two, the poker world has taken notice. Phil Hellmuth is a case in point. After patronizing Dwan in the wake of his loss to the young player at 2008's National Heads-Up Championship (view it online at youtube.com/watch?v=zY3b27vZwYk), Hellmuth has gone from doubter to booster. "I never thought he was a bad player, but I thought he didn't understand the game," says Hellmuth, who revised his opinion after 30 or so hours of play against Dwan during 2008 and into '09. "I've come to see that he has absolutely no fear and a deep understanding. Not many people can play as fast as he does and still win money. The only way I can play against durrrr is to represent a hand, put maximum heat on him and hope he's playing a bottom pair. He knows how to exert pressure on people, he's good at reading his opponents and he may turn out to be one of the game's greatest."
PHIL GALFOND Mr. Methodical
That Galfond would adopt an intentionally goofy name, specifically "OMGClayAiken," for playing online says a lot about his desire to slip under the radar. As players become increasingly cognizant of their public images and overly eager to cash in on them, Galfond remains a low-key guy. Save for his involvement with the online instructional site Bluefirepoker.com, he doesn't want to be recognized and isn't looking to capitalize on the bigger business that surrounds poker. He's perfectly happy to sit in his lower Manhattan penthouse and extract money from the best online poker players in the world. Over the last year, as confirmed by highstakesdb.com, Galfond has won more than $5 million on Full Tilt Poker alone.
According to Andrew Robl, a successful online player in his own right and a longtime friend of Galfond's, a big contributing factor to Galfond's consistently winning ways is his ability to intellectualize what he does. A lot of successful players say that they do things on feel or intuition or base their plays on experiences that have been mysteriously absorbed. "Phil, though, can always say why he plays a certain situation the way he does," says Robl. "Phil is very good at narrowing down the hands that people have and making them react in certain ways. For example, most people don't like to check-call out of position because they don't gain any information on the hand that their opponent might be holding. Phil is confident that he will be able to figure it out and then take advantage on a later street. More than other players at his level, Phil goes through a conscious thought process. He's probably influenced my poker game more than anyone else."
HUCK SEED Heads-Up Tournament Champ
You must be logged in to post a comment.
Log In If You're Already Registered At Cigar Aficionado Online