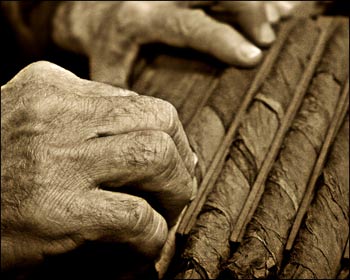 Manny Iriarte has photographed for some of the biggest names in the cigar industry, but the artist also finds time to pursue his own original works. Click the photo to check out more of his work. Above is Hands II.
Manny Iriarte: Blending Cigar Art and Advertising
Andrew Nagy
Posted: June 18, 2009
(continued from page 1)
He spent 19 years as a competitive swimmer, five of those with the national team. His career even brought him briefly to Italy and Brazil. He also was able to attend La Universidad del Deporte, graduating in 1993 with a degree in physical education.
After living in Cuba for seven years, Iriarte felt the desire to escape to America. In 2001, Iriarte found himself flying to Chile, then on to Buenos Aires before taking a final flight to Los Angeles and the protected ground of the United States. He then moved to Miami, Florida, where he took at a job as a physical education instructor. He met his wife, Madeline, also a teacher, while working there. Life seemed good, but Iriarte had other ambitions.
"When I started teaching class, photography was a hobby," Iriarte explained. "But it was something I wanted to pursue as a passion. That is difficult when you work full time."
So Iriarte began to work on his hobby. Although he can't recall exactly how he started photographing cigars, he does remember becoming fascinated by the allure of cigar smoke and how it curls, bends and twists in air.
And then, in 2004, his hard work paid off. He sold a black and white image of a Cuban Cohiba to a cigar lounge in Miami. And the owner wanted more.
"After I sold my first cigar image in 2004," Iriarte said, "I said to my wife, 'This is my niche.'"
Iriarte likes to keep things simple when he works. He prefers to work with natural light, and his studio only contains one light that he will use with a softbox.
"If a professional photographer came into my studio to watch me work, maybe in 30 minutes he would say 'That guy's crazy,'" Iriarte joked.
Although he now uses digital cameras, he loves film.
"Film is more artistic, more natural, more passionate. With digital, everything is technology. Film is more with the hands," Iriarte said.
You must be logged in to post a comment.
Log In If You're Already Registered At Cigar Aficionado Online