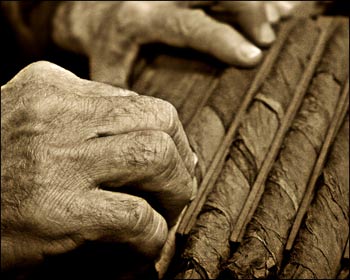 Manny Iriarte has photographed for some of the biggest names in the cigar industry, but the artist also finds time to pursue his own original works. Click the photo to check out more of his work. Above is Hands II.
Manny Iriarte: Blending Cigar Art and Advertising
Andrew Nagy
Posted: June 18, 2009
Though cigar smokers may not recognize photographer Manny Iriarte's name, no doubt they are familiar with his eye-catching cigar images.
Padrón, Don Pepin Garcia, Alec Bradley, Oliva, Tatuaje—these are some of the big names Iriarte has worked with while becoming one of the more sought after cigar photographers in the industry.
Iriarte has the unique ability to combine commercial photography with art, a trait valued in an industry where the production of cigars is viewed as an art form itself.
"I love the cigar because it is made from the hand of a person," said Iriarte. "The cigar came from the land, people then made it. Each cigar has its own personality."
Born in Santa Clara, Cuba, Iriarte developed his vision of the cigar as a symbol of passion, elegance and power by observing the cigar culture around him.
These themes seem to naturally emerge from his photographs, while of course still managing to advertise the product. One image in particular, his close-up shot of an Oliva Serie V cigar, is a good example.
Iriarte used a macro lens to blow up the cigar so it appears much larger than actual size. A strong light source from the right of the frame hits the cigar and band in a way so the tooth of the cigar and the embossed detail of the band can be seen, giving them the texture of silky, liquid chocolate.
"It's a favorite of mine. If you can transform the single band to a big, big image, then you are OK," said Iriarte.
It was also as a child that he became fascinated with photography. However, Iriarte was not able to afford a camera, and it wasn't until a Spanish tourist heard his plight and gave him a 35mm Olympus OM-10 camera was he then able to begin snapping photos.
At that time, though, Iriarte's first passion was swimming. Showing an affinity for the sport at a young age, the government wanted to groom Iriarte into an Olympic champion.
You must be logged in to post a comment.
Log In If You're Already Registered At Cigar Aficionado Online