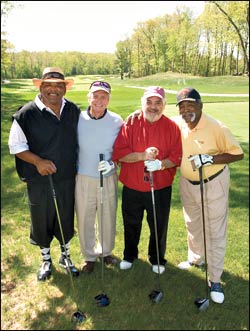 There are happy faces all around as the four senior golfers prepare for a day of competition. From left to right, Jim Thorpe, Michael Douglas, The Shotmaker and Luis Tiant.
More Confessions of a Weekend Golfer: Tackling Foxwoods
(continued from page 1)
On Sunday, Tiant came to play, too, and turned in an outstanding 81, including a 39 on the back nine. His tee shots were long, and he got up and down every time from the bunkers, showing that all parts of his game are solid.
The surprise of the day was Michael Douglas. He plays to a 17 handicap, but he was a little rusty because he hadn't had a club in his hand for a month. He was quick to make excuses on the first tee. By the fifth hole his game showed up with long drives and accurate long irons. He finished the front with a solid 45, but as the day went on, his game got stronger and stronger. He scored a 43 on the back nine and ended up with an 88 for the day.
I shared a cart with Michael as we played from the silver tees while Thorpe and Tiant played from the gold tees. We had a very enjoyable day together talking about golf, the movie business, families and life in general.
Golf is all about friendship, and this weekend was a lot of fun. Happiness is truly a four-letter world … G-O-L-F. Until next time.