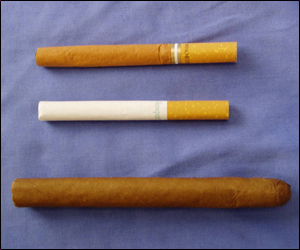 A little cigar, top, a cigarette, and a large cigar.
SCHIP Hits Little Cigars Hard
Andrew Nagy
Posted: February 10, 2009
While the premium cigar industry bemoaned the passing of legislation to expand the State Children's Health Insurance Program, which raised the federal excise tax on large cigars, overshadowed was the roughly 20-fold tax increase on little cigars.
The bill President Obama signed last Wednesday places the federal excise tax on a pack of 20 little cigars at roughly $1, 20 times the previous tax of five cents.
Little cigars differ from cigarettes, as they are wrapped in either a natural tobacco leaf or a homogenized tobacco leaf.
The new law goes into effect on April 1.
You must be logged in to post a comment.
Log In If You're Already Registered At Cigar Aficionado Online