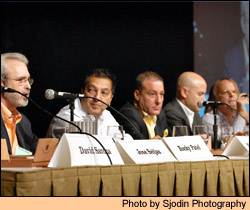 The panel of cigar experts taking audience questions.
Part Two: Las Vegas Big Smoke Saturday Seminars
Cigar Blending
(continued from page 1)
"The blending process is about proportion," offered Chiusano. "We could all get the same tobacco from the same farm and come up with totally different cigars."
Siejas talked about the Herculean task of sorting and fermenting the different tobaccos referring to the tonnage of tobacco that he is used to working with.
Eager attendees listen closely to the panel discussion.
"The fermented tobacco we have would fill up this ballroom all the way up to the ceiling two times over," said Siejas, giving the crowd an idea of the tremendous inventory needed to make consistent cigars on a large-scale.
After smoking the third puro, which consisted of Nicaraguan tobacco from Pueblo Nuevo and discussing the flavors of each, the Big Smoke audience got an idea as to what it is like to blend a cigar, to consider burn, flavor and palate stimulation and to try to attain the sometimes elusive factor of balance. Once they all lit up the final product, the smoking audience could more clearly taste the amalgamation of different tobaccos and understand the story that each tobacco had to tell.
CLICK BELOW TO READ ABOUT THE OTHER SATURDAY SEMINARS
Cigar Rolling
Cuba
Fathers and Sons
Lunch With The Experts
CLICK BELOW TO READ ABOUT THE SUNDAY SEMINARS
Charlie Palmer Breakfast
Roll Your Own
Mas Tequila

CLICK BELOW TO READ ABOUT THE FRIDAY AND SATURDAY EVENING SESSIONS
Friday and Saturday Night
You must be logged in to post a comment.
Log In If You're Already Registered At Cigar Aficionado Online