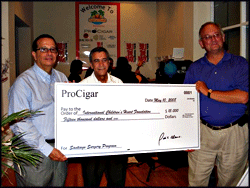 ProCigar's Jose Blanco, left, presents a check to the Children's Heart Foundation along with Dr. Juan Ramirez, middle, and Dr. Bill Novicks.
ProCigar Donates to Children's Heart Foundation
The ProCigar association of Dominican cigarmakers and members of the Memphis, Tennessee, business community joined together at A Taste of the Caribe on May 10 to help raise more than $65,000 for the International Children's Heart Foundation.
The themed fundraiser featured Caribbean food, margaritas and mojitos, and, of course, included Latin music. One of the evening's highlights came when Jose Blanco, sales director of the La Aurora S.A., based in the Dominican Republic, presented the foundation with a $15,000 check.
More than 175 people attended the event, including representatives from Bacardi Dominicana and various Memphis-based businesses.
The International Children's Heart Foundation strives to cure and care for children with congenital heart disease in developing countries by organizing funding, technology, and knowledge needed to combat the problem.
You must be logged in to post a comment.
Log In If You're Already Registered At Cigar Aficionado Online