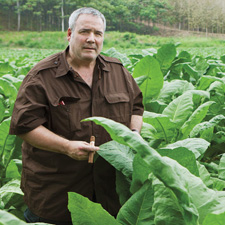 John Oliva Jr., surrounded by acres of ripening Havana-seed leaves growing in a field named for his legendary grandfather, Angel Oliva Sr.
Ecuador's Hot Wrapper
Ecuador Havana has only been around for a dozen years, but it has become one of the cigar world's favorite leaves
(continued from page 1)
"I grade in five levels of quality, one to five," Oliva says. "Quality is assessed by texture and color consistency. It can't have too many veins or blemishes, the color has to be rich and even, and the leaf has to be supple. A lot of the time, you don't see the flaws in the leaf until after it's come out of the barn. If it's perfect, that's grade one tobacco. Anything less than grade five, and I sell it as binder."
Although quite necessary to the construction of a premium cigar, binder leaf doesn't command the same price as wrapper leaf. The binder sits, unseen to the eye of the smoker, beneath the wrapper, and holds together the collection of filler leaves. Aesthetics for binder are irrelevant. When dealing with this behind-the-scenes tobacco, cigar-makers are far more concerned with combustion and flavor. However, one won't find any filler tobacco in Oliva's Ecuador operation at all. Despite the fertile land, one would be hard-pressed to find filler tobacco anywhere in the entire country of Ecuador. The reason is simple: It's too thin.
"Filler tobacco needs body," Oliva says. "Because the sun's rays are filtered by the clouds, the tobacco [in Ecuador] never thickens, never gets strong enough for a viable filler."
After the harvested tobacco from Oliva is hung in a barn to dry for around 35 to 45 days, the leaves are removed from the rafters and packed in 100-pound cardboard boxes, which are labeled by type and harvest date and sent to a heated warehouse. This is where they're given what Oliva calls a "sweating," or light fermentation, allowing colors in the tobacco to even out. From there, the tobacco goes to Nicaragua, where the wrappers undergo fermentation at a sorting and processing facility owned by Oliva Tobacco in Estelí. Purchasing agents and brand owners from every walk of the premium cigar industry visit Oliva's facility to choose tobacco and find just the right shade of color for their existing or prospective brands.
Demand has been so great for Ecuador Havana wrapper that Oliva recently purchased a new property to expand its plantings. They dubbed the land La Lydia, named after John Jr.'s mother. The 325-acre lot has been planted with more Cuban-seed tobacco. As far as Oliva can tell, the demand for the product is only growing.
"There are people who buy my wrapper, but won't admit that they're using wrapper from Ecuador," Oliva says. "They say it's Nicaraguan. I guess wrapper from Nicaragua is supposed to sound better. It used to bother me, but it doesn't anymore. And even though the seeds are Cuban for my wrapper, I never claimed that anything I grow tastes Cuban. That's not what I'm looking to do and that's not what my operation is about."
The clouds temporarily clear, allowing the sun to come out for a moment or two. This is rare sight for the region. Most of the time, the cloud cover is so thick and constant that the nearby Andes are completely invisible. Now, through a light haze, the verdant mountains appear large and spectral.
At a barn on La Mecca, Oliva inspects some hanging leaves, which have turned brown from the time they've spent curing. The tobacco barn smells like honey and yeast as all the wrapper leaves inside slowly ripen. Oliva is pleased with what he sees, and is confident that this wrapper will be of high quality.
Who will end up with the privilege of buying the best? Even among bales of the priciest grade one tobacco, very few groupings can be the true cream of the crop. When asked this question, Oliva lets out a long laugh and then steps out of the barn, shutting the large double doors behind him. He looks out at the mountains that make this land so special, and allows himself a smile as he answers. "They all do."
Comments
3 comment(s)
Arthur Hoge — Calhoun, Ga, U.S., — April 30, 2014 8:32am ET
---
Peter Cook — New Westminster, British Columbia, Canada, — May 7, 2014 8:32pm ET
---
Thomas Dahlgren — Johnson City, TN, U, — May 10, 2014 12:22pm ET
---
You must be logged in to post a comment.
Log In If You're Already Registered At Cigar Aficionado Online