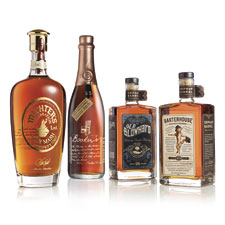 Consumers are starting to see hyperpremium American whiskeys like Michter's Celebration, left, Booker's 25th Anniversary, Old Blowhard and Barterhouse on shelves.
Monster Mashes Meet Cigar Sensations
(continued from page 1)
With Celebration: The whiskey comes alive under the influence of this cigar. The tingling spice notes of the Celebration quickly evolve into and mingle with hitherto understated caramel/toffee side. For its part of the bargain, the Don Carlos gets drawn out and gives up its own spicy side with hints of coconut and hazelnut thrown in for good measure. The best cigar pairing for this whiskey.
With Booker's: We predicted the proof of the whiskey might be a little overwhelming for the subtleness of the cigar. Not to worry. The Don Carlos stands up to the test, mellowing out the rougher edges of Booker's and boosting its orange peel charms. What the cigar gains is sweetness and a sharpened point on its hearty flavors and full, deep, rich attributes. Going back and forth on these two elements is sheer delight. The best cigar pairing for this whiskey.
You must be logged in to post a comment.
Log In If You're Already Registered At Cigar Aficionado Online