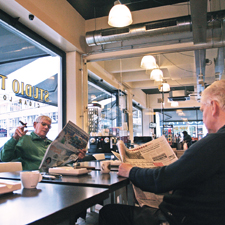 Oliva Cigar Co. created branded lounges in Europe for distribution. Patrons puff away in the Rotterdam, Netherlands, store.
Non-Cubans Go Global
Cigar companies have long been content to focus their sales efforts on the U.S. market, but today many are expanding their brands abroad
(continued from page 1)
Oliva has also created seven branded cigar lounges in Europe—three in Germany, two in Holland, one in Portugal and another in Switzerland—to advance its image among European cigar aficionados. Another is scheduled to open later in the year. Local laws have changed, prohibiting the advertising of cigar brands in some cases, so some of those lounges bear the name of its StudioTobac arm.
In the early days "the average guy didn't know Oliva. You are starting, in a lot of cases, from scratch. We had to establish an image and a name," says Shapiro. "We are now truly an international company—and it has really paid off." More than 170 shops in Germany today carry Oliva cigars, more than any other country outside the United States.
International markets allow for different levels of competition than in the United States. Some of the biggest U.S. cigar companies, namely Altadis U.S.A. and General Cigar Co., can't sell the lion's share of their products abroad due to conflicts with Cuban brands. The Dominican Romeo y Julieta, H. Upmann and Partagas, and the Honduran Punch, for example, can't be sold outside of the United States. Without some of those big brands competing, sometimes smaller brands can find an unexpected foothold.
Daniel Marshall has been crafting fine humidors since 1982. He also has a small cigar business, selling smokes that bear his name, and his European cigar sales slightly outstrip U.S. sales. London, Austria and Germany have been good to him so far, and he is opening up sales in Spain. "I love the idea of breaking into a new territory," says the tanned, slim Californian. "In Germany, my last name goes far," he says, referring to the Marshall Plan, named for former General and U.S. Secretary of State George Marshall, who laid out a strategy to rebuild Germany and Europe in the days following the Second World War. Marshall sees an increasing number of non-Cuban cigars in the humidors he has visited abroad. "I went into this cigar shop in Spain, and half the humidor was Nicaraguan," he says. But he realizes global sales take time. "It's very slow to build relationships over there," he says.
Most cigar companies agree that expanding abroad is a long process, and that these are early days. But they also agree that it's worth the investment. Even mighty Davidoff has eyes on further expansion. With 179 countries represented, and some 229 countries on the United Nations roster, "we still have 50 to get to," says Hoejsgaard.
Comments
11 comment(s)
Kevin Shah — Shah Alam, Selangor, Malaysia, — April 8, 2014 4:26pm ET
---
Peter Carmichael — Tokyo, Tokyo 107-0052, Japan, — April 9, 2014 1:59am ET
---
Kevin Shah — Shah Alam, Selangor, Malaysia, — April 9, 2014 3:37am ET
---
Abdul Hafiz Wahab — Ampang, Selangor, Malaysia, — April 9, 2014 9:11am ET
---
David Savona — April 10, 2014 9:35pm ET
---
Eddy Guerra — April 12, 2014 10:04am ET
---
Menelaos Menelaou — Lakatamia, Lefkosia, Cyprus, — April 12, 2014 10:06am ET
---
William Bostic — Newark, NJ, US, — April 14, 2014 10:30pm ET
---
Kevin Shah — Shah Alam, Selangor, Malaysia, — April 16, 2014 3:00pm ET
---
Guy Buscema — Calvisson, Gard, France, — April 22, 2014 11:22am ET
---
Pierre ROBLIN — PUYREAUX, France, — September 9, 2014 11:48pm ET
---
You must be logged in to post a comment.
Log In If You're Already Registered At Cigar Aficionado Online