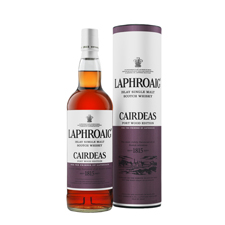 Cáirdeas, released this summer, is Laphroaig's unique expression for 2013 and uses a finish of 15 months in a half-size Port cask after eight years in a former Bourbon barrel.
A Trio of Laphroaig Whiskies for Your Cigar
(continued from page 2)
NOSE: Cherry and citrus fruit follow a toasty beginning and usher in some complex rancio notes with almonds and grapes.
PALATE: A veritable syrup of fruit and flowers—cherry, oranges, raisins, roses—with spicy nuances—licorice, cinnamon and rye. Yes, the toast is always there, yet kept in abeyance and never allowed to become too peaty.
FINISH: And then arrives the toast with a salty, nuttiness. But, the savoriness allows the fruits and flowers to play on for a while.
CIGAR PAIRING: Don Carlos No. 2 (see above), Add the Port character of the whisky and this pairing becomes Forest Gump's box of chocolates. And while you mightn't know what you're going to get next, you can bet that it will be delicious. The fruits on the Laphroaig pop on a steady basis and the Don Carlos gives back its now solid chocolaty notes making for a bonbon of a marriage.
You must be logged in to post a comment.
Log In If You're Already Registered At Cigar Aficionado Online