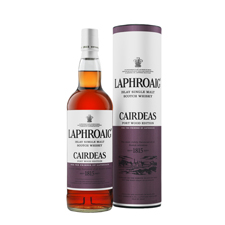 Cáirdeas, released this summer, is Laphroaig's unique expression for 2013 and uses a finish of 15 months in a half-size Port cask after eight years in a former Bourbon barrel.
A Trio of Laphroaig Whiskies for Your Cigar
(continued from page 1)
FINISH: The toast is insistent and colors the finish throughout, while the flavors of the palate make revolving visits.
CIGAR PAIRING: Don Carlos No. 2 (6 inches by 55 ring gauge; $12.60; 92 points; June 25, 2013, Cigar Insider) This reddish-colored torpedo burns and draws superbly, balancing nut and cocoa flavor with a touch of red pepper spice and sweet cedar. So often Islay whiskies run the risk of clashing smoke with smoke with a cigar. Not at all here. The nut and cocoa of the Don Carlos reveals similar qualities in the cigar. The whisky sends the cigar to new heights, lending it a good bit of sweetness.
Laphroaig QA Cask (80 proof, or 40 percent alcohol by volume; no age statement; $83.65 a one-liter bottle)
APPEARANCE: Amber with a tint of greenish brass. Big globular legs.
NOSE: Toasty and savory aroma of barrel notes of toffee and caramel.
PALATE: A big chewy, whisky with a backbone of toast and layers of vanilla, caramel, nougat and honey.
FINISH: Effervescent finish laced with pears and lemons.
CIGAR PAIRING: Don Carlos No. 2 (see above) Again, everything falls together nicely. Flavors intertwine so gracefully that it's hard to determine where one is helping the other or being braced by it. The end result is unmistakable, however: a chewy candy of nuts, cream, cocoa, fruits and spices.
Laphroaig Cáirdeas Port Wood Edition (102.6 proof, or 51.3 percent alcohol by volume; aged nine years plus; $74.99 a 750-milliliter bottle)
APPEARANCE: A remarkable color of copper saturated with magenta. Chunky fat legs saunter down the glass.
You must be logged in to post a comment.
Log In If You're Already Registered At Cigar Aficionado Online